Music Man
Freshman Tyler Redden can play 7 musical instruments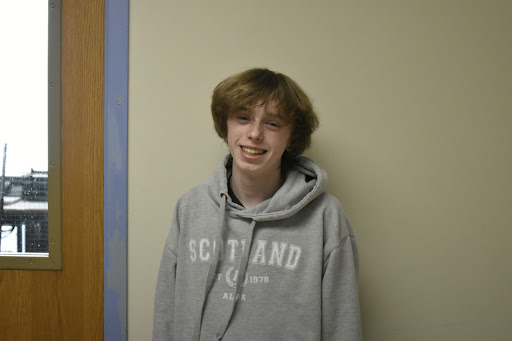 There are a lot of unique freshmen at South, but it would be difficult to find a freshman more unique than Tyler Redden. 
He is one of just a few students who can be accurately called a musical virtuoso. Not only does Redden play the trumpet in the school band, but he also knows how to play six other instruments: the violin, cello, flute, guitar, saxophone, and organ.
Redden's musical journey started at a very young age. He said his first teachers were his parents who instilled a passion for music in him. 
"I always listened to music as a kid. Growing up, my entire family played in bands and played a lot of instruments," Redden said.
In third grade, Redden joined the orchestra where he learned to play the violin. The following year, he began playing the cello as well. This was just the start of Redden's musical career. As a sixth grader, Redden joined the band where he picked up the trumpet for the first time. Since then he has learned to play the flute, guitar, saxophone, and organ. Today, Redden can play all seven instruments, but he still has his preferences.
"I would say the alto saxophone is my favorite instrument to play because I'm really into jazz," Redden said. 
Redden's love for jazz has had a big influence on his music. His favorite musician, John Coltrane, is one of his musical idols and is one thing that inspired Redden to join the band.
"He gets involved every opportunity he gets," Matthew Wall, South's band teacher, said. "He's in every band we offer here: Marching band, jazz band, and our concert band. He works so hard to stay on top of all the work he does."
The work ethic that Redden displays in the band can be attributed to his love of music. But even a talented musician like Redden has struggled at times. He claims that out of all seven instruments he's learned, the flute was the most difficult.
"The embouchure is different from everything else," Redden said.
Embouchure refers to the technique used for blowing into a brass or wind instrument. It is just one of the reasons that it's difficult for a musician to learn multiple instruments. Redden does have some advice for those who are interested in learning an instrument.
"I'd probably say start with something easy like the trumpet and just start in the lower registers," Redden said. "And then just remember to practice."