Flying high
Junior Kevin Cole is on his way to earning a pilot's license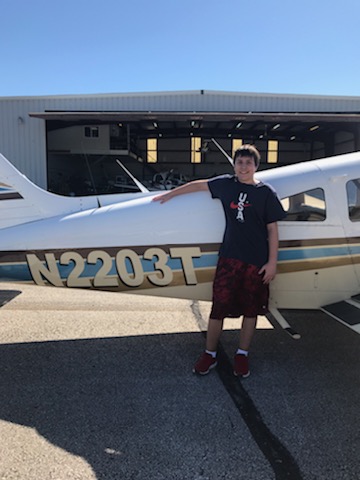 Katie Cole, Convergence Journalism 1 writer
October 15, 2020
Have you ever wondered what it would be like to fly an airplane all by yourself? Well, junior Kevin Cole is not only flying but learning much more as he trains to become a pilot. 
Kevin Cole, junior, is learning how to fly planes and is practicing for his private pilot's license. He has been interested in aircrafts since sixth grade. He has been taking lessons for about one year now. He has been flying at Creve Coeur Airport and St. Charles Smartt Field.
Cole said he has always been very interested in airplanes because his dad works for Southwest Airlines. He said his dad took him to a flight simulator in Dallas,  and ever since he has wanted to be a pilot. 
He has lessons scheduled and he logs how long he flys in his logbook. He has done 5 lessons and he needs 45 hours to get a private pilot's licenses and 1500 hours to be a commercial pilot. Cole said there are a couple of aircrafts he has dreamed of flying.
¨I have always dreamed of flying a Boeing 737 or a 777x,"  he said.
Cole said he got started on his flying journey in 2018 when he attended an airshow at Spirit of St. Louis Airport in Chesterfield. He attracted attention from a regional airline named GoJet. Witch is a subsidiary airline flying for the Delta and United brand. When he went and talked to some pilots there about him being interested in airplanes and after he talked to them they were impressed with all the knowledge of airplanes he had. They invited him to their headquarters in St. Louis and he got to tour the air traffic control center.  
¨It was a amazing experience," he said. 
Cole's ultimate goal is to work for a professional airline. In order to do so, he has to rack up 1500 hours of flight time. 
Cole got his first chance to take the controls all by himself on June 11–the day after his 16th birthday. He said he was in control of everything from takeoff to landing but his instructor John Ladley was in the airplane as well. Cole said he will get the change to fly solo (by himself without an instructor)  once he has enough hours logged in his logbook 
¨It was amazing being able to fly/control an aircraft all by myself, and it really got me more motivated to pursue a career in aviation," he said.
When you have a private pilot's license you can fly all kinds of different places. Cole has been flying in a Piper Cherokee And a Cessna 172
¨I definitely think some of the coolest places to fly to would be the Caribbean or Hawaii," he said.
Cole's dad, Aaron, started working for Southwest as a ramp agent, and is now a cargo agent
¨I wanted to work at a good company from the bottom and work my way up," Aaron said.
Aaron said he is proud of his son's determination to become a pilot.
¨I am excited to see Kevin's progression to become a pilot. He is working hard to obtain his goal. And it felt good to watch him take off. It takes a lot of confidence to take off from a runway and I was very proud of him," he said.