5FD is now Factory Reset
South's improv group takes on a new name, new traditions.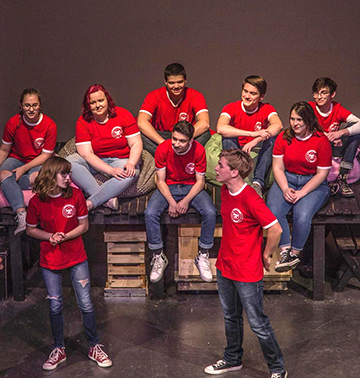 Reboots have been a common trend in the film industry of late but it seems Parkway South High has a reboot of its own now. Five Finger Discount is now Factory Reset. 
Parkway South High's improv team has always attracted people and has been very popular over the years. Parents, teachers, and students would come to see their kids, students, and friends perform on stage. 5FD was an improv group that has been at South High as long as drama teacher Jennifer Forrest-James has been at South. Forrest-James said the name change and reboot was partly her idea."It was my directive. It was time. When 5FD was created it was a different time, school, and kids. So it was time for a refresh," she said.
For some specific changes, Forrest-James said this, "It's a smaller team. Which allow them to really band more as a team. You're on the team for one semester. So if you can't be on it for this semester you could be on it next semester," she said.   
The term refresh is exactly what it seems to mean. Previous 5FD member and now Factory Reset member Jack Salzman says this "It's honestly how 5FD was. The majority of the players are from 5FD. It is a soft reboot. It is essentially the same show." 
Though there are new skits, Meredith Labuda, previous 5FD and current Factory Reset member, said they did cut some stuff out.
"We're trying out some new games in practice but we are not ready to play them in our October show, so look out for that in December. As well, we are considering having blind line (a game where, throughout the scene, players pick up and read slips of paper that have lines from the audience written on them) be our new signature game," Labuda said.   
Labuda shares a similar opinion to Forrest-James on why this change needed to occur.
"5FD has been around for 20 years, and it's incredible that there have been students every year who keeps the team going. However, 20 years is a long time and some parts of 5FD were a bit outdated. We've revamped the way we run our shows (no openers or "show teams", just games that players can hop up at any time to join), created a new shirt and logo, and we have started only holding practice once a week so that members of the team can also be apart of other after school activities," she said. 
However, those are not the only changes. The 5FD nicknames and numbers were taken away as well. 
"We got rid of the nicknames and numbers for a few reasons. One being that teachers, not students, ran auditions this year. In the past, members of the team held auditions and gave the 'new kids' numbers and nicknames. But with everyone auditioning, there were no students left to make nicknames. As well, while Factory Reset is the team with the same players that you know and love, we have moved on from 5FD, so having nicknames and numbers may keep us stuck in the past a little. In the future, once Factory Reset grows into its own, they may choose to bring back nicknames and numbers or start a new tradition," Labuda said.   
Salzman did say what he was looking forward to in their first show for Factory reset. "I always look forward to seeing the audience not knowing what to expect. Watch them laugh, watch people I helped with my improv to help them flaunt their stuff."  
Which commitment seemed to be a big problem. Forrest-James elaborated on the subject, "We were running into some problems, like commitment. For us, it was why we have an improv team. It was not a decision that was taken lightly." 
When asked if Factory Reset will get as much attention as 5FD Forrest-James mentions "The goal is for the improv to be better. People want to see better improv. People will see that the quality has improved, so more people will choose to go."
People should go to the show Labuda explains. "People should come to Factory Reset shows because, just like 5FD shows, they are fun! Our scenes are really exciting and funny because anything can happen! As well, audience members get to give suggestions and interact with actors, which is something that you can't find at any other show."  
Just because Factory Reset is new and exciting doesn't mean we should forget 5FD. Salzman said he will miss 5FD a lot.

"I'd always miss the seniors, the improv team and the nicknames," Labuda sympathizes. "I miss the seniors who graduated last year. I've been on the team with them for three years so it's a little weird doing improv without them." 
Salzman and Labuda will not be the only one to miss 5FD. Forrest-James said she will also miss 5FD a lot as well.
"It was around for a very long time. Some traditions to 5FD that was really fun. So people recognized it. So to some extent there was sadness. Sad yet necessary," she said.