MLS to STL?
Local business owners head venture to bring pro soccer to St. Louis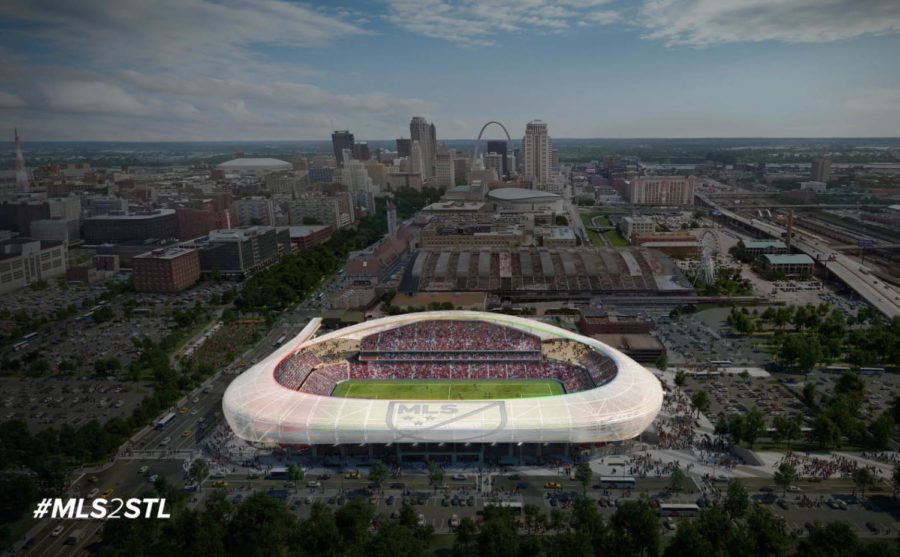 The Los Angeles Rams: boy, is that name a shot to the heart of St. Louis sports fans. St. Louis has always been a powerhouse with professional sports, however, as of recent, St. Louis teams have been missing the playoffs all too much, and they are searching for a new third sport to come in.
The MLS has come knocking.
Last summer, talks emerged of an MLS team coming to St. Louis. However those talks fell through due to the lack of public funding. Although, one year later, talks have sparked up again. In October, Jim Kavanaugh, CEO of World Wide Technology and ex-pro soccer player, and the Taylor family, owners of Enterprise,  held a live press conference for the public to hear of their bid for a new MLS team. Kavanaugh and the Taylor family have come up with a private funding idea where no public funding is needed, just supporters getting behind the movement.
Much of St. Louis seems to be behind this movement, but is Parkway South?
Just last week on twitter @psouthtreaty put out an anonymous poll on Twitter so see if people wanted an MLS team or not. As of press time, for the poll accounted 97 votes and revealed 91 percent voted yes to have an MLS team.
The MLS has acquired some of the best players to ever have played the game, such as England legend David Beckham, Thierry Henry, and most recently Wayne Rooney.
Sophomore Mahmoud Ahkel said he doesn't watch much of the MLS but would if St. Louis got a team so he could see some star players.
"I would like to see big named players like Zlatan Ibrahimovic play here for the team or make an appearance here," said Akel.
Forrest Reineke, junior, is in favor of an MLS team coming to St. Louis, not just for his enjoyment of the sport, but that he thinks St. Louis is falling behind to Kansas City, due to them having more teams than St. Louis and their recent success in their leagues and playoff runs.  
"Kansas City is way ahead of us right now. Not only do they have more teams than us, but their teams are actually successful too compared to ours," said Reineke.
Former member of the U.S Men's Soccer National Team and former teacher at South, Al Trost, is in the same idea with Reineke in that Kansas City is great city to model after with their soccer fan base so strong. He believes the MLS is a growing league that should be a part of St. Louis.
"I would love to see MLS in this city.  The league is going to expand and I believe they would give St. Louis serious consideration considering our rich soccer history," Trost said,
The MLS truly is a growing sport, growing at a rapid rate of 12.8 percent in attendance over the past 3 years, more than 6 times the amount of any other major league sport.  The committee plans to build a 20,000 seating stadium in downtown St. Louis. If all goes planned for Kavanaugh, he hopes to get everything up and running by at latest, 2022.
"I believe we have soccer fans here in St. Louis that are craving to watch good professional soccer,"  said Trost.