Running down a dream
Patriot boys cross country participates in Rim Rock Farm Classic.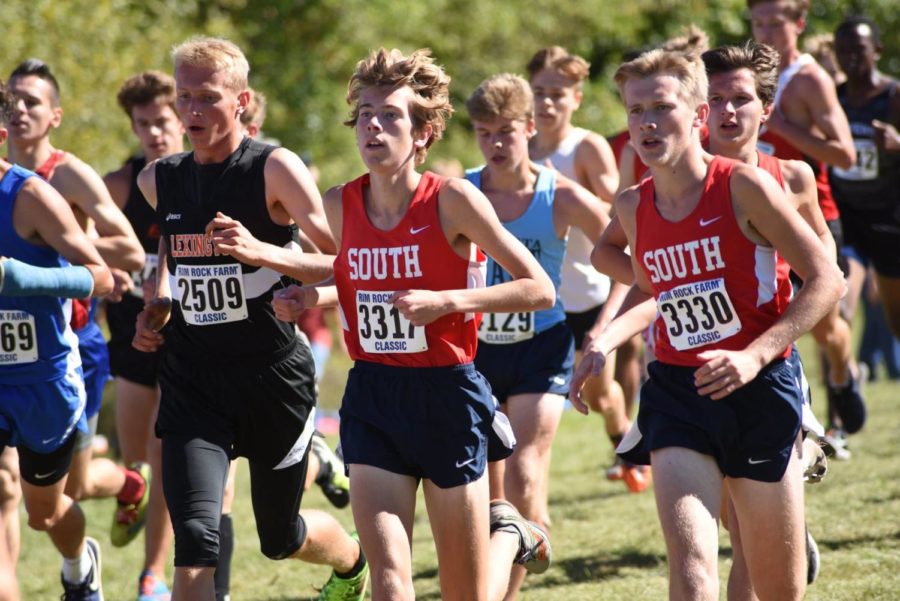 Pain. A feeling sophomore cross country runner James Stone knows all too well. But pushing through the pain has helped him become a dominant force for Parkway South.
"A lot of days hurt. Running 5 miles at a 5:30 pace per mile is not easy," said Stone.
Stone said the team often does crazy runs such as this one, and pushing hard in practice is a key for their success during the races.
"It can definitely hurt, but between the top 7 or so of us, we are able to push each other every day," he said.
"It's a lot easier to run fast when you have your teammates right there with you, motivating you to keep going," said sophomore runner Daniel Tabaka.
"The coaches are great. By trusting them and the work they have us do, we are confident that we can make it to state this year," said Tabaka.
If they could make it, it would certainly be exciting for everyone on the team.
"A big part of our success comes from our summer. We did about 450 miles this summer, which really set us up for success this season," said senior runner Drew Hediger.
Running 40+ miles a week may seem like enough to be great, but that is not all they do, said Hediger.  
"Practice doesn't just stop at 5 pm. By doing the little things right like stretching and foam rolling, that helps give us confidence that we can reach our goals," said Hediger.
And runners like James and Drew aren't just stopping at state; they are setting their sights even further.
"This season we would all like to run 16:45 for 5k, that's the goal," said stone.
A 16:45 5k would put them in the upper echelon of the state, and they seem determined that they can do it.
This past weekend the boys went on a weekend trip to run on KU's iconic cross country course, Rim Rock Farm.
"The trip was great. Not only is the trip out a lot of fun, but the course is iconic, and the times were fast," said Tabaka.
"All the varsity ran lifetime bests on Saturday, some by a few seconds, some by a few minutes. We had five guys run in the 17s this weekend, including several in the low 17s," Coach Ted Faulhaber said.
Between the fun trip out, and the fast times, the meet was a great success.
"It felt great to run so fast at Rim Rock. Running in the low 17s showed us that our end of season goals are definitely possible," said Stone.
"Led by great coaches, with a great atmosphere and everyone working to be the best they can be, who knows what we can accomplish this season," said Hediger.