Cook Sizzles
Even though she's only a freshman, Lexi Cook is already a state champion.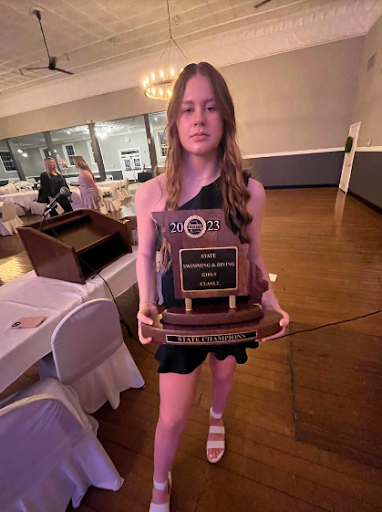 Have you ever made the varsity swim team as a freshman and won the state title? Well, freshman Lexi Cook has. 
During the winter months, the Patriot girls' swim season takes place, eventually culminating in a State Championship event at the Mizzou swimming pool. Cook and the school's swim team never see a moment of peace. Cook said the few weeks prior to going to state the team trains harder than ever. 
"The few weeks leading up to it, the training and practices are really hard and it can really tire your body out," Cook said.  
Cook said her favorite stroke is backstroke which is also her greatest strength, other than being highly positive. At nationals, she swam the 500-yard freestyle, 100-yard backstroke, 200-yard medley relay, and 400-yard freestyle relay. Cook still tries to improve on her breaststroke and sprinting in really short distances. The team won first place in the medley and relay. Cook won third in the 500-yard freestyle and second in the 100-yard backstroke. 
Swimming both competitively and recreationally has been a major part of the swim team's lives for years. Senior Kylie Sullivan has swum competitively since age 8, and Cook has been on swim teams since she was 4 years old. Cook swam for Fenton and swims for Rockwood normally, and Ballwin in the summer. 
Cook also went to U.S. Open in North Carolina where she placed 18th out of the whole United States in swimming. She swam the 100- and 200-yard backstroke.
 Cook's teachers said they think she's an amazing student who takes much responsibility for her work. They are very understanding of her sport and support her in every way possible. 
"Lexi's ability to balance both academics and athletics is astonishing!  She's very proactive in communicating with me when she's got an out-of-town swim event coming up. She tries to complete her work ahead of time or gets a plan in place to complete it while out of town," Human Geography teacher Adam Weiss said.
Cook said she tries to get most of her work done in school, and if she has to she'll finish her homework after practice. This can become difficult since she misses a lot of school that she has to catch up on. Through everything, all the trials and tribulations, Cook still remains motivated to push through it.
 " I made a lot of friends during it and my friends from swim are my closest friends," Cook said.
Cook says she has the most fun at meets where the whole team is there, 
" I have fun wherever we're all there as a team and where we're all cheering each other on, " She said.
Cook wants to win state at an individual event and pursue swimming in college. Swim coach Blakeleigh Mathes pushes Cook to perform at the next level.
"We knew our goal was to win state so that was the driving force behind it but as a coach, I want to give them everything they need in and out of the pool," Mathes said.
Cook said she is closest with Sullivan on the team because they went through the same experiences. Sullivan says how fun it is to see how much Cook has developed. 
"Lexi is genuinely one of the hardest workers I know. It took her a while to come out of her shell but once she did she was so funny. She also had a lot of pressure being a freshman and she was a huge help to the team. A lot of success went unnoticed because of other people on the team but she was huge for us," Sullivan said.