XFL in the STL
St. Louis gets XFL team for 2020.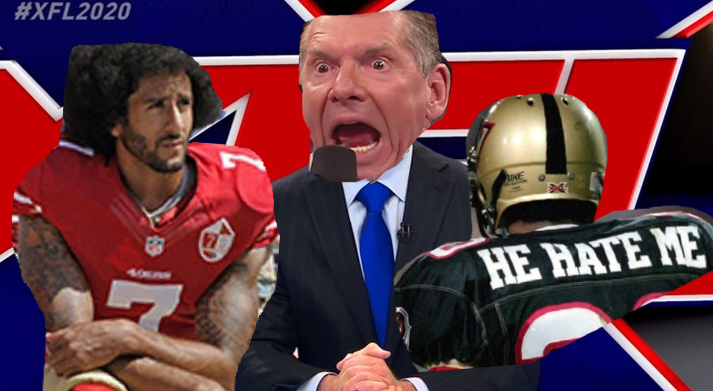 The XFL dubs itself as "football without penalties, rules, and complaining." In 2020, St. Louis will once again host a professional football team–in the second act of the XFL. The league is owned by World Wrestling Federation owner Vince McMahon. The XFL is best described as a football league "that stands for everything the NFL does not–including the National Anthem." Owner Vince Mcmahon said players will be released from the league if they kneel for the National Anthem. Other differences from the NFL include less penalties, and more lenient rules involving tackling.
"The NFL is way too soft. The rules of the XFL will definitely be more exciting, and I think it could be much more fun to watch than the NFL," he said.
Students like Chris Johnson may welcome some of the changes that the XFL promises.
"This isn't the first go-around for the XFL. In 2001, the XFL debuted as a controversial sports league that appealed to those looking to embrace their testosterone drive. A short one season later, the XFL was discontinued due to surrounding controversies," said Johnson.
Speech teacher Mike Hachmeister said he remembers the first edition of the XFL.
"I do remember the XFL debut in 2001, it seemed destined to fail. It seemed like they focused more on the spectacle than the product," he said.
Sophomore Mason Lange said he looks forward to this second version of the league.
"I wasn't alive for the original XFL, but I'm super excited for it to come back, especially to Saint Louis," Lange said.
Vince McMahon has put his public image on the line again, agreeing to bring back the XFL in 2020. Saint Louis will be one the eight cities getting a team. Considered a failure in 2001, will the XFL pick up more steam the second time around? Johnson thinks it will.
"I definitely think the XFL will be popular when it comes back, especially in the city of Saint Louis, since we no longer have the Rams," Johnson said.
With its emphasis on remaining tough, the XFL will have a limited rulebook relating to hits, fair catches, and kickoffs.
"I do enjoy kickoffs, but the chances of injury are extremely high. By the XFL not allowing fair catches, someone is destined to get seriously hurt," Hachmeister said.
Although there may be injury risk involved, some viewers like Lange love the excitement of watching big hits.
"I definitely think the NFL is going overboard with the penalties and rules about tackling and hitting, football should remain football, big hits included," Lange said.
With the departure of the Rams, some Saint Louisans feel a void where their love for the Rams used to be.
"I think the XFL's rule set makes it much more exciting to watch, when we get a team, I'll definitely go to some games," Johnson said.