Women Warriors
The Untold Side of The Woman King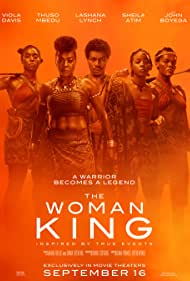 The Woman King is the newest installment of historical non-fiction movies that has taken the world by storm in 2022. However, the film has been under some hot water recently for not being historically accurate. I went to see the movie recently, and here's my take on it. 
 The movie is directed by Gina Prince-Bythewood, director of a multitude of other films such as Love & Basketball, Beyond the Lights, and The Secret Life of Bees. Something interesting that I love about this movie is that the cast consists of almost all black actors, including stars like Viola Davis, Lashana Lynch, John Boyega, and many more. I personally love the fact that the cast is almost all black because this kind of representation is needed in Hollywood, and with this movie Gina accomplished just that. 
Where does it take place? What is the movie about? The movie starts off with Nansica (Viola Davis) and the rest of the Agoje tribe absolutely pummeling over a tribe of male slave traders. ot all of them die and some escape to inform Oba Ade (Jimmy Odukoya; stars in multiple black-casted movies such as Tomorrow Can Wait, and Karma is a Gangster). Throughout the movie Oba Ade is seen as a villian and one of the well-known slave traders located in Western Africa during this time. Im not sure whether or not he was a real person because "Oba" means king, deriving from the Yoruba and Bini languages of West Africa. so his name is "King Ade" and im pretty sure he wasn't an actual person, just symbolizing the fact that there were multiple rival leaders of the Agoje. One of Ade's  friends, Santo Ferriera, is working alongside him helping him trade people and goods, meanwhile the people of Dahomey don't want to be a part of the trades anymore. I believe this is untrue because the Dahomey Kingdom, especially the Agoje, were some of the biggest traders in all of Western Africa during this time, so I'm just confused as to why they would want out? The answer to this question I believe is pretty clear, to portray the Agoje as an anti-slavery/freedom-fighting village, when in reality they were pretty feared in the district in which they were settled at.
Now the movie portrays the Agoje as "freedom fighters" but this is just not true as stated above. I get them trying to essentially "Hollywood" the movie but I feel like if you're going to make a true story movie about a tribe just tell it how it really is. In Woman King the Agoje are essentially an anti-slavery kingdom; this is also not true. In reality, the Agoje literally had slaves of their own fighting for them, and they were all women I believe. I understand why they would do this, they were just another woman kingdom trying to survive the Atlantic Slave Trade, so they had to do what they had to do. Sometimes the Agoje would even trade off some women along with kids for goods, which the movie does kind of show but not to the right extent.
The agoje did some pretty violent things to the men villages they would take over, unfortunately, I won't be going over it for the sake of your eyes.
Something I can admit the movie does show or portray is the violence done to the women in the 17-1800's during the slave trade. Kind of later on in the movie we learn that Nansica was forcefully impregnated by Oba Ade and gives birth to a secret baby which is Nawi. After this is revealed there is tension between the two. Only after Nawi is almost killed in an attack that was not authorized by the leader, do they become close. I love how the movie shows the things that happened to women because we finally get to kind of see how it was for them trying to survive, one of very few things that are actually true and shown about the Agoje tribe in the movie.
One last thing about this movie is that Viola Davis has to be one of the most astonishing actors I think I've ever seen on the big screen. The way she continuously goes off in every movie she is in is absurd. 
Other than the fact that some of the truth behind the Agoje was hidden behind them being an anti slavery/freedom fighting group, this movie was amazing. It is definitely one of my favorite films to come out this year alongside The Batman. This movie definitely has a chance at getting the Oscar for Best Picture, and I expect there to be some other Oscars  handed out to a number of people who were in the film. 
Overall I give this movie gets a 9.182 out of 10. The time for this movie is also pretty good, running at 2 hours 14 minutes. The Woman King is rated PG-13, and is currently only in theaters and not on any streaming services. Rotten Tomatoes gives it a ⅘ or a 95%, which is insanely good. If you haven't seen it already, I truly suggest you go watch it!