Perkins 'flies back' to South
Although she was a Lindbergh Flyer the past two years, former South teacher Lindsey Perkins is returning as assistant principal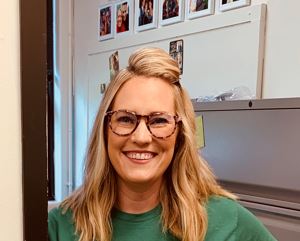 As Angie Pappus-Muyco makes her way to head principal next school year, the big question was, who will become the new assistant principal?
Well, it has been announced that Lindsey Perkins will be coming back to South as assistant principal. 
Perkins left South in 2020, and went to serve as an assistant principal at Lindbergh High School. She was there for two years, and when the opportunity presented itself, she decided to come back "home" to South. 
"I am excited to be 'home.' South is where I learned who I was as an educator and where I had the chance to learn from some amazing people. I am excited to be in that space!" said Perkins. 
Before becoming an administrator she taught Marketing at South High for five years. She says there are days where she misses being in the classroom. 
"I miss having a group of students that I would see almost every day. As a principal, you do not have that opportunity the way that you did in the classroom. I also loved the experience of traveling with students for DECA. That was a fun part of my job," said Perkins. 
Perkins coming back to South was exciting news for both staff and students. Former colleague, business teacher Ellen Schmitt said she was pumped to hear the news. 
"I loved working with Mrs. Perkins! She is one of the most positive and innovative educators that I have ever encountered. If I were young and flexible, when I found out she was coming back, I would have done a backflip. Instead, I did several high-fives and some very energetic fist-pumps. Along with a "HECK" Yeah!," said Schmitt. 
Senior Sri Kunta was also so excited when she heard the news. Kunta worked closely with Perkins as a Patriot Representative her sophomore year.
"She will be an amazing assistant principal. She is so cool and funky, and just great. She was an amazing role model for me and I love her to death," said Kunta. 
Schmitt also knows that Perkins will make a great assistant principal. 
"Mrs. Perkins is a natural leader and has a great rapport with the students and staff. She really cares about making school a fun, safe, and engaging experience," said Schmitt. 
After coming back from Lindbergh, Perkins said she has a lot of new ideas ready to bring to South for next year. 
"I have a lot of ideas that I would love to incorporate. A few things on my bucket list are a Friday playlist for staff (stole this from our Activities Director here, more to come on that!), and I would love to start a community baby race during basketball season!!," said Perkins. 
Perkins also has lots of outside-of-work activities that she loves to do. 
"I like to cook, eat, try new restaurants, work out, watch sports, play with my kids, spend time with friends, and anything that is active," said Perkins. 
She also has kids of her own. 
"I am married to my husband, Jason. We have a son, Nolan (4 yrs), and a daughter, Nora (ten months). We also have a chocolate lab named Jersey," said Perkins. 
Perkins is ready to take on the challenge of being an assistant principal at South.
" Not necessarily nervous, but I know that I will have to learn new processes as an admin and new ways of doing things that may differ from how I learned them in Lindbergh. I want to jump in and start supporting teachers and students right away, so I hope to get comfortable with those processes as quickly as possible," said Perkins.
Perkins commented on the differences she sees between South High and Lindbergh.
"The main differences have to do with the size of the student population and the size of the building overall. Lindbergh is home to about 2300 students. The buildings are spread out across campus instead of being stacked on top of each other like at South. We also are under construction at Lindbergh; navigating this has been an experience. Lindbergh School District is different in that we are the only high school as opposed to Parkway, which has 5. This changes the dynamic of my position from a management standpoint," said Perkins. 
Although the change is exciting for Perkins, she will miss the atmosphere at Lindbergh and those who she has met there. 
"I wish I could take the two schools and combine them so I wouldn't have to say goodbye! I love the atmosphere here. It is full of school pride and amazing staff. I will definitely miss my team as I have really enjoyed working with them," said Perkins. 
Overall the move back to South is very exciting for Perkins, and she is ready to make a difference at South. 
"I am excited to be in a position to support teachers at South in the way that I was supported when I was there. I owe much of my confidence as an educator to the support I received during my time in Parkway. I am also excited to get to know the students and help contribute to the amazing school culture at South! They have also built a Dunkin' Donuts down the street since I left. Can't wait to swing through there in the mornings!" said Perkins.