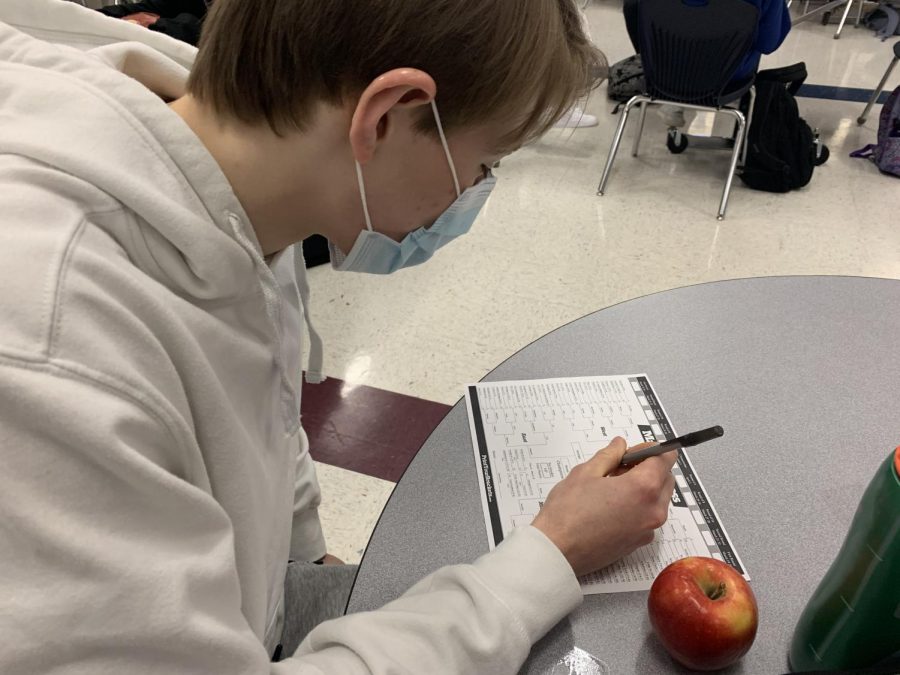 How to create a perfect bracket
March 16, 2021
The last March Madness game was played 707 days ago. This coming Friday, that will change.
March Madness returns after COVID cancellations last year and will close out an already electrifying season. As exciting it is for avid fans, it's not impossible to win your bracket pool with no experience or knowledge of college basketball. I will be breaking down and giving my own expectations, predictions, and upsets alongside empirical data that shows which picks are most likely to happen, not by choosing mascots or team colors. And if you stick around, I'll even give you a sneak peek on who my champion will be.
West Region
Gonzaga: The West Region is headed by the unanimous, overall one-seed Gonzaga Bulldogs. Led by freshman point guard Jalen Suggs, senior guard Corey Kispert, and sophomore power forward Drew Timme, this fearsome threesome has yet to lose a game. A common misconception about the Bulldogs is their weak conference, who only sent one other team besides Gonzaga to the big dance, creates an easy schedule for them. While that is true, they still have the hardest ranked strength of schedule, beating teams like Iowa and Kansas, who are also in their region. While the Bulldogs are a safe bet to go deep, keep in mind an undefeated team has not won since 1976. 
Missouri vs. Oklahoma: The Missouri Tigers (8) are one of the most inconsistent and strange teams in the country. They have three top-ten wins, but have yet to put their potential together and go on a run. Their offense is headed by Dru Smith and Xavier Pinson, and is tough to beat when they're both at the top of their game. However, losses to Ole Miss and Mississippi State have shown they are not extremely stable. After losing a close game to Arkansas in the SEC tournament, they will be hungry to beat a struggling Oklahoma team. The Sooners (9) have gone 0-4 in the end of their regular season, and after jumping into the top ten AP poll midseason, they've slipped drastically. I think Oklahoma is too disoriented right now to beat a Mizzou team that is on the verge of figuring out their game plan.
Virginia vs. Ohio: Perhaps one of the more interesting games to lookout for is UVA (4) vs. UO (13). Ohio lost by only two points early in the season to Illinois, and has looked pretty steady since then, only dropping a few games. Their story is Jason Preston, a junior point guard with aspirations to make it big. Currently projected as a first round pick, he's giving me 08/09 Steph Curry vibes, and can give the Cavaliers a real run for their money. The regular season ACC champs had to cancel their ACC tournament games due to covid exposure, and are unsure of who will be able to play in the NCAA Tournament. They are the highest ranked four seed on Kenpom, and with a lethal offense, they're looking to repeat as champions from 2019.
Kansas: Kansas (3) is one of the only blue blood teams (Kentucky, Duke, Michigan State, North Carolina) not only to comfortably make the tournament, but have a solid year. Alongside Virginia, the Jayhawks also had to sit out of the Big 12 tournament due to covid. Their star player David McCormack is out with covid, and unless they are able to win their first two games, he will not be able to rejoin the team. Head Coach Bill Self is one of the most decorated coaches in college basketball history, and I personally don't think he'll have any troubles getting to the Sweet Sixteen so McCormack can play once again.
Iowa: Luka Garza is the lifeline of this team. Not to discredit any of the other Iowa Hawkeye (2) players, but Garza is currently the National Player of the Year frontrunner, and is looking to repeat from his historic season in 2020. This team's offense is what makes them such a threat, especially to Gonzaga. The veteran-heavy team not only leads the Big 10 in turnover-assist ratio, but is the best scoring team in the nation, trailing only Gonzaga. The three point shooters can come from all around the arc, and having a guard-heavy team like Iowa is statistically what a championship team looks like. Garza is not only an option on the inside, as his towering seven foot frame is essentially a walking bucket, but has proven to hit daggers from the three also. If I were to take any team from the West to beat Gonzaga, it'd definitely be Iowa. Their only weakness is defense, which ranks 11th in the Big 10.
Other: Be careful of freshman lottery pick Evan Mobley from USC (6), as he proves to be dangerous. UC Santa Barbara (12) is also one of the hottest teams in the nation, and they face a struggling Creighton (5), which will make for a good game. Oregon (7) vs. VCU (10) will be exciting as well, as VCU has one of the best defenses in the country and has hopes to rival their 11-seed final four run from 2011.
South Region
Baylor: The Bears (1), although never being ranked number one overall, certainly could have made a case for it midway through the season. They looked unbeatable until the dreaded covid pause sidelined them for three weeks, and they haven't really been the same since. With a super shaky win against the worst power five team in the nation, Iowa State, followed by their first loss to Kansas, their balance was shaken. Veteran Jared Butler and the three point shooting team have had one of their best seasons in program history, and this offense is scary. They gave Illinois a loss early in the season and continued to overpower teams, controlling the pace of the game for most of the game. A player to watch on this Bears team is MaCio Teague. He shoots lights out, and has carried this team post-covid pause. He reminds me lots of Carsen Edwards from 2019, and I think they have final four potential. Purdue, Wisconsin, and Ohio State are all Big Ten teams that will prove to be formidable opponents, but I think a week break after making up so many lost games is exactly what Baylor needs, and they will be in tip-top shape for the tournament.
North Carolina vs. Wisconsin: Wisconsin (9) is quite a simple team. They have lost to teams ranked ahead of them and beaten teams ranked below them. They've got one of the oldest teams in the nation, and experience has shown the few mistakes they make. UNC (8) rebounds like madmen, and under the expertise of Roy Williams, this should make for one of the tightest games in the First Round. My gut is telling me Wisconsin, and although a nine over an eight is not an upset, nines have won 52% of the matchups.
Villanova vs. Winthrop: I think many people will agree with me that this will be a classic 12 over 5 upset. Five seeds have only won 64% of matchups with twelves, meaning you should almost always take one if not two 12 seeds to win their first game. This Villanova (5) team looked exceptional until their star point guard Collin Gillespie tore his MCL. They've dropped multiple games without him, and are struggling to win games. Their other star, Jeremiah Robinson-Earl, is a defensive maniac, and has helped keep the team from completely uprooting. However, they will have to face the Winthrop Eagles (12), who, alongside Colgate, have the fewest losses in the NCAA aside from Gonzaga. Winthrop is on absolute fire right now, and I predict they are going to scorch the Nova Wildcats.
Texas Tech: Led by high-school sensation and Georgetown transfer Mac McClung, the do-it-all point guard is hoping to match the Red Raiders (6) final four run of 2019. Head coach Chris Beard has coached them in a very strict way, creating an outstanding defense that historically ranks in the top 10. McClung and gang have a very complete team, but are similar to Wisconsin in which the teams they have been beaten by are all better than them, but have beaten the teams worse than them. I fully expect them to beat Utah State (11) and even to move onto the Sweet Sixteen.
Ohio State: Eight losses is quite a lot to be a 2 seed in the tournament. The Buckeyes (2), after being unranked to begin the season, have proven to be a formidable team capable of beating almost anyone. They went undefeated before conference play, and were able to beat all the top teams in the Big Ten. Their offense is powered by short point guard C.J. Walker, guard Denzel Washington, and forward EJ Liddel. This team is incredibly deep, and has three bench players that consistently play. Kyle Young is a threat on offense as well, but keep in mind he is out with a concussion and his situation is unknown. Ohio State shows potential to make a Final Four run and could give Baylor a serious run for their money.
Other: Purdue (4) made an outstanding run to the elite eight  in 2019, and would have to most likely beat Baylor to do that again. They are a complete team that's ready to make a run. Arkansas (3) vs. Colgate (14) is similar to the Nova/Winthrop game, but Arkansas should be able to win. They made it to the SEC championship game and have begun to peak at the right team. On the other hand, Colgate only has one loss. Florida (7) should also be able to move on past a deteriorating Virginia Tech (10) team, who showed promise but began to blow games left and right.
East Region
Michigan: If you haven't heard Michigan (1) fans yet, you're about to. The Wolverine fanbase is as loud and berserk as it gets. Coach Juwan Howard flipped a middle-of-the-road team into a powerhouse in the Big Ten, and although not predicted to be a one seed this year, they were on a hot streak for a long time. Michigan fans would've vied for them to be ranked ahead of Gonzaga, but then were proceeded to be blown out by Illinois at home without the Illini's best player. That defeat really shook them, and on top of that, starting senior Isaiah Livers is out with a foot injury now. If Michigan wants to make a run for the championship, freshman big man Hunter Dickinson needs to stay out of foul trouble and work his way around other post players. I still have some faith in the Wolverines, but I will take them out early, most likely in the second round to LSU (8).
LSU: Even with losing in the SEC championship game, the LSU Tigers (8) are the most hot team in the NCAA and show all the aspects of making a Cinderella run. SEC Freshman Newcomer of the Year Cameron Thomas averages over 22 points a game and runs this elite offense. LSU will run up the score against you and likes to play as fast as possible. High-powered offensive teams tend to make it far in the tournament, and their only weakness is the Tigers' interior defense. They've lost a lot of their games by allowing a lot of points in the paint. Despite this, I expect them to win two to three games.
MSU: After being ranked 13th in the preseason rankings, it looked as if the Spartans (11) were going to have a disappointing season similar to Duke. And until February 23rd, MSU did not expect to make the tournament. But nevertheless, Tom Izzo has brought the team back after beating Illinois, Ohio State, and Michigan within two weeks. Michigan State tends to always make a run, and I'm cautiously optimistic about taking them far again. They have a play-in game (and what is being called the greatest play-in game matchup of all time) against the UCLA Bruins (11). UCLA is very cold right now, and if MSU wins their first game, they have an easier matchup with overrated BYU (6), who has a lot of wins but not many quality ones.
Texas: I love this Longhorns (3) team. If I could take them to win it all, I would. However, three seeds very rarely win it all, and you're better off picking a four. This team is deep with guards, all who can hit clutch shots, but have had chemistry issues on the court. Guards Courtney Ramey and Matt Coleman have shown they sometimes do not get along. Their forwards, Greg Brown and Jericho Sims are monsters in the paint, unafraid to make contact and make big plays. When working in cohesion, this team is unstoppable, and have the guard-heavy aspect to make a final four run. Shaka Smart is a genius head coach, and should never be underestimated in March.
UCONN v. Maryland: The UCONN Huskies (7) won two NCAA championships in the past decade. They've been quiet this year, and have an extremely complete team. Over 10 players consistently play, and their offense and defense both hit top 25 marks in Kenpom. However, they face Mark Turgeon's Maryland Terrapins (10), who boast a solid defense. This Maryland team is not nearly as good as they were last year, but have enough pieces to still make games close. They beat Illinois early in the conference schedule, putting them on the map. If this Maryland team wants to move on, however, they need to make more of their shots. In the end, I think UCONN will take this win.
Other: Georgetown (12) stole a bid in the Big East tournament. Head coach and NBA star Patrick Ewing has reformed this team, even without Mac McClung, and are poised to beat up on the Colorado Buffaloes (5). I am not a huge fan of this Florida State (4) team, but I've learned to never count them out. They rank high on Kenpom for an ACC team this year, and being in one of the weaker regions gives them a chance to move on past upset teams. Finally, if you are to pick a one or two seed to lose in the first round, make it be Alabama (2) to Iona (15). This is no disrespect to the Crimson Tide, but Iona head coach Richard Pitino is a scary man. He's brought five separate teams to March Madness now, and after his 2013 Louisville championship scandal, he has returned to basketball and reshaped this team in a single year to make the tournament. I would not count them out, and it'll be a game to keep an eye on.
Midwest Region
Illinois: The Illinois Fighting Illini (1) are the most talked about team in basketball right now. Not only are they fun to watch and have won fourteen of their last fifteen games, the Illini are led by the only player to rival Luke Garza for player of the year, and that is Ayo Dosumnu. The junior guard has turned the Illinois program around from 12-21 in 2019 to a one seed and 22-6 in 2021. His counterpart Kofi Cockburn, a monstrous seven foot, 285 pound center, has the second most double doubles in the NCAA and is nearly averaging a double double. Dosumnu was out with a facial injury late in the season, but his return has energized the team, and they are all working cohesively. Andre Curbelo will be a name to remember in coming years, as the bench freshman is a genius on the court. Illinois has the potential of a championship team, and ranks in the top ten in both offense and defense alongside having the most Quad One wins in the NCAA. As of now, I'll be taking them as my 2021 NCAA Champions.
Loyola Chicago vs. Georgia Tech: This will be the best game of the first round, and it won't even be close. It's a shame they play each other in the first round because I think both teams have the ability to make a Cinderella run. The Loyola Ramblers (8) made it to the final four in 2018 as an 11 seed, and the metrics are saying this team is even better than that team. They're hot right now, and after winning their conference tournament, it's hard to not want this team to win. However, Georgia Tech (9) is on fire equally to Loyola, and stole an ACC championship last weekend. They struggled early, but surged in the latter part of the season as the ACC fell apart.
Oklahoma State: Cade Cunningham runs the Oklahoma State (4) team, but they proved themselves as a contender when they beat West Virginia (3) on the road without him. But this projected number one pick is not only dominant, but clutch. Oklahoma State handed Baylor (1) it's second loss of the year, and lost a very close one to Texas (3). They were unranked for a large amount of the year, due to two uncharacteristic losses to TCU, but moved up quietly towards the end, and were probably robbed of a three seed. I'm taking the Pokes to the Sweet Sixteen, but I still think Illinois will be able to contain Cunningham.
San Diego State vs. Syracuse: San Diego State (6) has a very average resume despite only having four losses, and puts them at a BPI ranking of 18. Many people are considering taking San Diego State to the Elite Eight, but I think they are overlooking a Syracuse team that just barely sneaked into the tournament. The Orange (11) are coached by Jim Boeheim, and led by son Buddy Boeheim. This team is inconsistent despite their powerful offense, thus earning them an eleven seed. They'll need to work their butts off, but I think there's an outside chance the Orange will make it to the Elite Eight even. 
Houston: Perhaps one of the biggest question marks going into the tournament is the Houston Cougars (2). I think they will pass the first round pretty easily, but after that it's a tough decision. Houston has a very low amount of quality wins, and while boasting a mere three losses, it doesn't convince me of their level to compete with the power six teams. On the other hand, they have a BPI of 4 and Kenpom puts them at 6th with a top 25 defense and offense, attributes of the past 10 tournament winners.
Other: Tennessee (5) has an outstanding defense and should be able to beat Oregon State (12) who is red hot from stealing a bid in the Pac 12 tournament. West Virginia (3) will have a tough matchup with Morehead State (14), as the Mountaineers have lost a few games towards the end of the season. Another interesting matchup will be Rutgers (10), who have been a team riddled with bad luck, versus the Clemson Tigers (7), who are being criticized for being ranked too high. This game will be close, and I think I'll end up taking Rutgers.
All games this year will be played in Indianapolis, and will start this Friday, the 19th. My last bit of advice for you all is taking all one seeds to the final four is never going to end well. It has only ever happened once, and statistically speaking, about two 1 seeds will make it. Alongside taking at least one twelve seed to upset a five, I would take one thirteen to upset a four as well, because 4 seeds win only 72% of the time. Finally, three seeds rarely win the tournament. Be cautious of who you choose, and the best way to earn points will be getting the late games correct, not the first two to three rounds. Have fun, win money, and watch some basketball!
How to create a perfect bracket