From Patriot to Purple Ace
Former South soccer success, now D1 athlete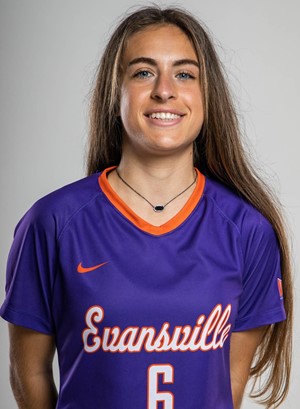 Getting a scholarship to a Division 1 school is an idea many high school student-athletes dream of. One of our very own Parkway South alumni was able to achieve this. 
2020 graduate Maria Alexopoulos plays forward at the D1 college soccer program, the University of Evansville in the Missouri Valley Conference. 
As expected, there are major differences between high school soccer and college soccer. Not only is college soccer more committed than high school, but also the overall level is higher. 
Alexopoulos speaks on the contrast.
"The biggest difference is the intensity of the game and the pace. College soccer is so much faster and is played at such high intensity. It takes so much more mental focus and energy," she said. 
Unfortunately, Alexopoulos's freshman year started this year while the coronavirus was spreading throughout the United States and the world. Like most sports this year, COVID-19 has affected Alexopoulos' season greatly. 
"COVID has had a huge impact on my season because it delayed it until the spring, and has complicated pretty much every single aspect of life as a student-athlete. I have to get regular temp checks, game cancellations, and quarantining," Alexopoulos said. 
However, despite all the changes she's had to endure, she still keeps high spirits. 
"I am very excited for this season. I have worked hard and can't wait to play at this level," she said.
The University of Evansville is currently 1-1-1 so far this season. Alexopoulos has loved the environment so far and looks forward to the rest of her season. 
" I chose to play soccer here because I love the campus, the people here, and the soccer team is just overall a great fit for me. It's really competitive and has pushed me so much," she said.
Though Alexopoulos is enjoying her college experience and D1 soccer season, many people miss her and the success she had at South, including girls soccer varsity head coach Kyle Forthaus. 
"Maria had a lot of success playing at Parkway South. She scored 20 goals and had 14 assists in 3 years. Maria would have been a 4-year player on varsity at South if COVID had not taken her senior year. She was a team MVP for a couple of years. Also, she was a team captain. Maria was always among the top players for South in goals and assists," he said. 
Not only does her old coach remember her success and personality but so does another 2020 graduate and former South teammate, Jordyn Hadrill. 
"I remember Maria always had really amazing ball control. I could always trust that if I passed it to her she would handle it well," she said. "Maria is one of my favorite people on and off the field. Off the field, she is still incredibly driven and so funny. I have the best times with her and she's the one I go to when I need someone." 
Alexopoulos's legacy at South lives on through the example she set and the inspiration she was able to give to the freshmen on varsity last year, in their shortened time together, according to a former teammate, sophomore Sydney Lauria.  
Lauria said, "Seeing someone from South go D1 inspired me because it showed me the possibilities of what could come in my future." 
Alexopoulos gave one last piece of advice to other student-athletes. 
"Some advice would be to keep pushing yourself each chance you get to prove yourself. Also to never give up on playing at the level you dream of playing at," Alexopoulos said.