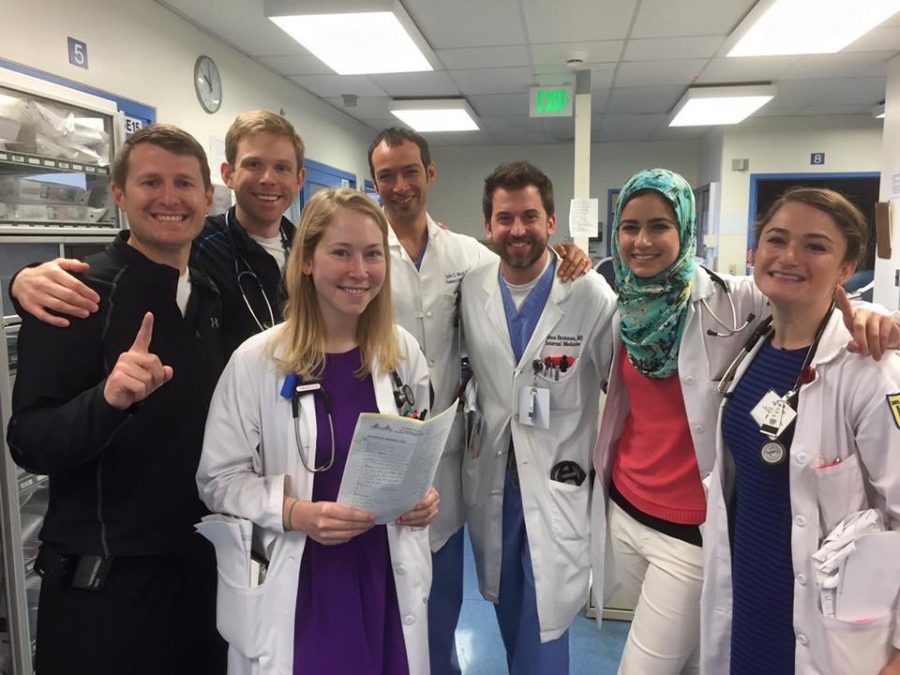 Mariam Nawas ('07)-Doctor at Memorial Sloan Kettering Cancer Center in New York
Q: What college did you attend?
A: After high school, I enrolled in the 6 year BA/MD program at the University of Missouri-Kansas City, where I completed my undergraduate and medical degrees.
Q: Why did you want to specialize in oncology? 
A: I think it boils down to two main reasons. First, early in my medical training, I realized that the relationships I had observed between patients and their oncologists were unlike anything I'd seen in medicine. Nothing seemed more fulfilling than caring for very sick patients in their most vulnerable moments and earning the trust of patients and their families. My brother had a life-threatening leukemia as a child and I saw the strong, positive impact his physician left on my parents to this day. Second, the area of oncology I am focused on (bone marrow transplant and leukemia) is fast-paced, complex and multidisciplinary, and it combines the areas of medicine I enjoy the most. I really love working in the context of a team, thinking deeply about complex problems, and combining data and good judgment to create the best plans for patients.
Q: Was there pressure to become a doctor like the rest of your family? Who else in your family are doctors?
A: In my immediate family, both of my parents and two of my older brothers are physicians. I was naturally influenced by them growing up – I wanted to emulate my older brothers who did well in school, and I was inspired by my parents who were born refugees and became doctors despite so much adversity. However, I don't recall my family pressuring me into it. My parents used to say I should go to law school because apparently I was argumentative…
Q: Were you interested in anything besides what you're interested in now?
A: I have always loved writing and my favorite subjects in high school were English and Newspaper. A part of me has always wanted to be a journalist. What draws me to medicine is the social connection – I am let into people's lives and can have a positive impact on them – which I think good writers have the power to do.
Q: Who was your favorite teacher(s) at South?
A: So many left a strong impact on me–Mr. McPartland, Dr. Conley, Mr. Brady, Mr. Jauss, Ms. Daniels, Mr. Morrison, Mr. Degitz, and Mr. Wade among many. 
Q: What was your favorite memory from your high school years?
A: Just growing up with my circle of friends. Now I really cherish the day to day memories I thought were mundane at the time like doing homework together, the late-night conversations we'd have on AOL Instant Messenger (before the time of iPhones), and growing closer as we grew up together. I also really loved going to the 5 Finger Discount shows – is that still a thing?
Q: What was your first-ever job? 
A: My first paid position was as an intern physician after I graduated medical school. I realize I was incredibly privileged to focus on studying throughout college and medical school and not stress about finances.
Q: When did you know this was the path for you? 
A: Being a hematologist/oncologist is actually something I've always envisioned because my earliest memories involved my oldest brother's leukemia diagnosis. As a kid, I had other notions about my future that certainly have not played out this neatly, but every stage in my education and training seemed to affirm my early career choice.
Q:What does a typical day look like for you?
A: My professional life has changed dramatically in the last several months. Prior to that, I spent five years immersed in the hospital and in clinic treating patients. The hours were long and my work ranged from seeing patients in clinic and managing their hypertension to taking care of really sick and unstable patients in the intensive care unit. Now I am on a research track so I split my time between patient care and research. In clinic, I meet with patients and their families, review the status of their cancer, and determine a treatment plan with the help of a supervising doctor. As a researcher, I help conduct studies to generate better treatment strategies for patients. A lot of my research is done in front of a computer screen and it really feels like being a student again!
Q:What type of classes did you take at South High and what was your favorite?
A: I loved my English and Newspaper classes. I really enjoyed learning history and calculus too and honestly wish I could go back and take those classes again.
Q:Were you involved in any extracurriculars at South High?
A: I founded the Amnesty International club with one of my best friends, which I was passionate about. I wanted to join the debate team but was too intimidated and I still regret it!
Q: Did you enjoy going to South High?
A: Very much so, and I'm grateful that the majority of my education and training has been at public schools and institutions. As a high schooler, I didn't appreciate nearly enough how devoted, sincere and talented my teachers were. I am a huge proponent of public education as a result of my experiences and hope I can find ways to pay it forward.
Q: Do you still keep in touch with anyone from high school?
A: I do! Over the years, the circle of high school friends I've stayed close to has dwindled, but two of my closest friends today I met at Hanna Woods. We grew up together in Parkway.
Q: What advice do you have for students interested in becoming a doctor?
A: Medicine is unlike anything you'll take in high school or even college, so don't be dissuaded from a possible medical career if you don't like biology or chemistry. It's a long and difficult path (I am STILL in training), and developing good habits early is crucial to being successful and not burning out. Beyond diligence and hard work, that includes being kind to yourself, maintaining your hobbies and the things you are passionate about, and keeping your greater priorities in perspective.