Farewell, Dr. Diggs
After 8 years as assistant principal at South, Diggs moves on to head role at Hardin Middle School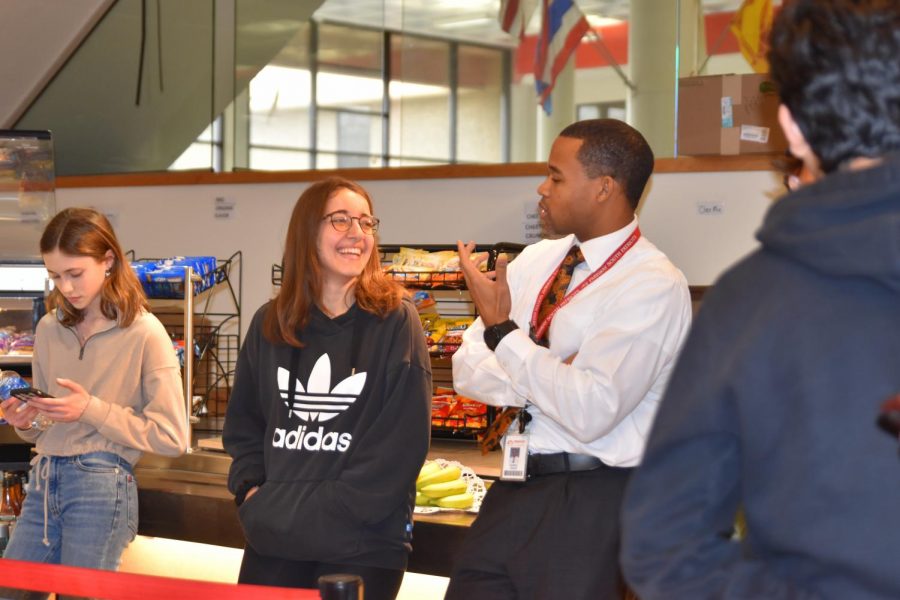 As the end of the school year approaches, students begin choosing classes, picking colleges, and finalizing plans for next year. Teachers and administrators too must begin to figure out what the next year will hold for them. For Assistant Principal Darryl Diggs next year holds a big change.
Next school year, Diggs will be head principal at Hardin Middle School in the St. Charles City School District. After eight years as an administrator at South, he will continue to bring positivity into the lives of others in a new place.
"I will continue to be a mentor, resource and servant to teachers, students and parents," Diggs said.
Diggs said the decision to leave South was a difficult one, but at the end of the day, he believes that taking a new job is the best for him, as well as his loved ones.
"I believe this is the right decision for me and my family. My family is excited. My sons are drawing me pictures to hang in my new office. As I look through the eyes of my sons, I am further realizing that life is short and incredibly precious. Personally, I have always tried to empower others to 'Be Great' for years…now it's my turn. I do this for them," he said.
Diggs said what he's going to miss most are the meaningful connections he's made with students and teachers at South.
"I will miss the students most. I have learned and grown alongside them. In addition, I will miss the connections and relationships I've built. There are key adults in the building that were the light on my darkest days. They are truly special people. For example, when I first started Sandee Werner (former secretary) was my best friend off the bat. It's the special people that have kept the building together for all of us and kept me uplifted when my energy was low," Diggs said.
Principal Patrice Aitch said she is sad to see Diggs leave, but understands how lucky Hardin Middle School is to gain a wonderful asset.
"The kids at Hardin Middle are very fortunate to have him. He takes great strides to get to know students as individuals, rather than the whole. His arrival will be a nice transition for them," she said.
Aitch said she is proud to support the opportunity for Diggs' outreach to stretch beyond the walls of South.
"After eight years he will very much be missed, but there's a whole new community that will be positively impacted by his caring heart, genuine spirit and outrageously energetic personality," said Aitch.
Outside of the walls of South, Diggs is a co-founder of Black Males in Education-St. Louis, an organization to support black educators in our community. The St. Louis Post-Dispatch recently published a story regarding his involvement in the organization.
Diggs recounted his struggles as an African American in the field of education to the St. Louis Post-Dispatch.
"At some point, that thick skin gets heavy," he said in the article.
The organization is how he is able to make a difference in a larger community than just South.
Fellow administrator, Eric Wilhelm, said he will miss his friend next year.
"I am both excited and sad for my friend. He has brought out the best in me in so many ways. When I grow up, I want to be just like him!" Wilhelm said.
Students and staff alike share fond emotions and memories of Diggs. Senior Zach Left Hand has Diggs as his administrator.
"Diggs is one of my favorite adults at South. He's really cool and cares about all of his students," Left Hand said.
Diggs had some advice for students before he leaves at the end of the year.
"I hope my students remember my energy, passion and willingness to give to others. Always remember, life will have many bumps along the way and those bumps make us better and make us stronger. Listen more than you speak. Be honest even if it hurts and whatever you do in life…be passionate," he said.