Girls make history tonight
Tonight the Patriot varsity girls wrestling team grapples in the first ever girls wrestling tournament, at West.
December 13, 2019
Tonight, the 7 members of the Parkway South girls varsity wrestling team travel to West High to participate in the Lady Longhorn Girls Tournament–the first-ever Parkway girls wrestling tournament.
The Patriot wrestlers are Nadia Middendorf, Janiah Jones, Kyla Shields, Lizzie Levins, Kadance Coffin, Faye Ullom, and Tryniti Kaighin. Terri Klein is also on the team, but she is currently dealing with an injured knee. The girls are coached by Head Coach Taylor Burch.
Wrestling is a sport that for a long time has been seen as a male sport, but slowly women wrestling has become just as popular. This year, Parkway South has introduced a girls wrestling team.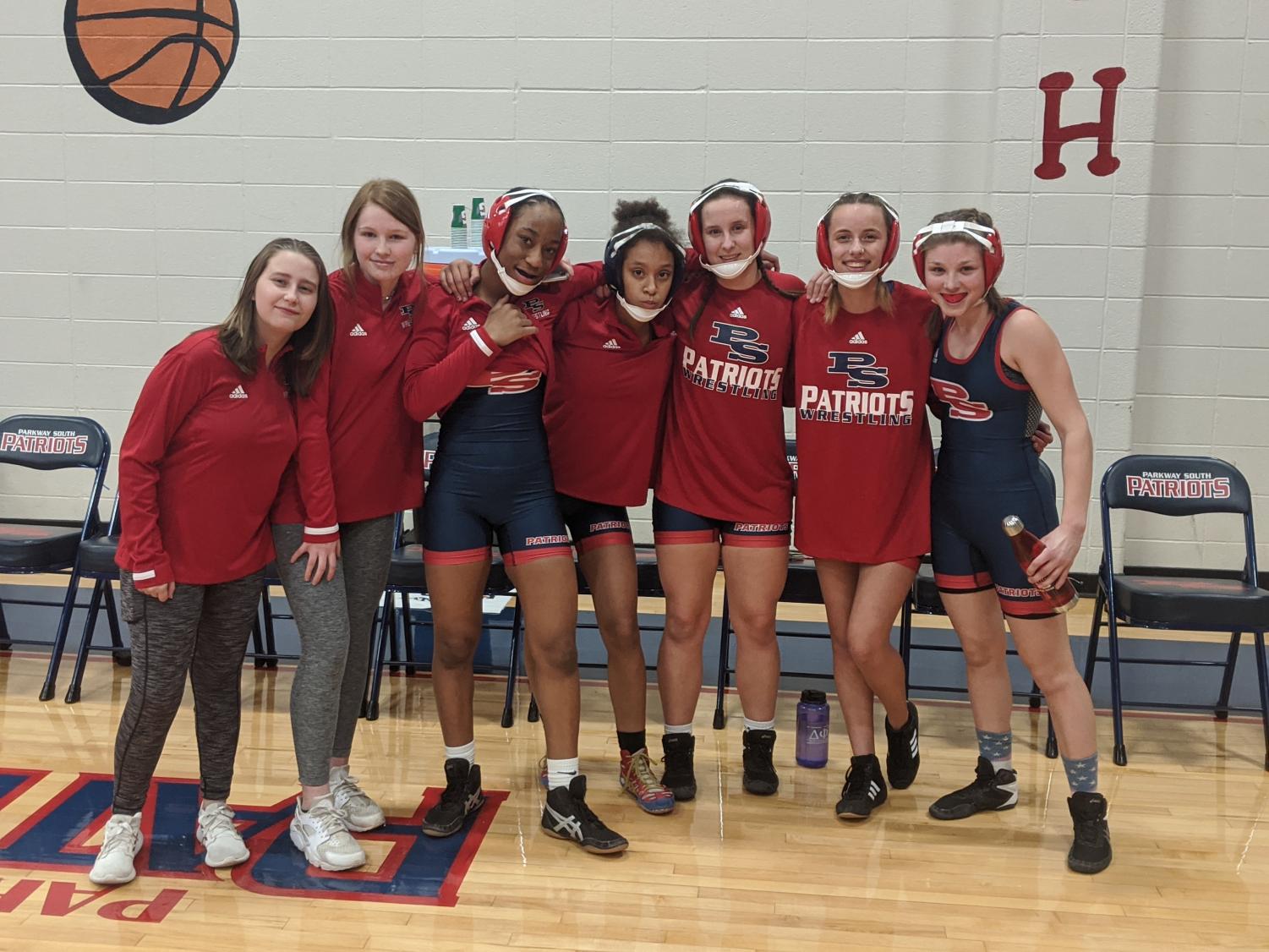 One girl new to Patriot wrestling isn't new to the sport. Sophomore Kadance Coffin has wrestled for four years.
 "I play because I enjoy the sport," she said. "I don't know any other students on the team, but I like the coach and am excited to get to know the others." 
Head boys wrestling coach Greg Mattison said he is excited to have the girls team on board.
 "I want to help build young men and young women so they can believe in themselves and accomplish things they never thought they could, accomplishments they will remember all their lives," said Coach Mattison.  
Freshman Janiah Jones earned the first pin in Parkway South girls wrestling history on Dec. 4 when she beat her opponent from Lindbergh. Jones also pinned her second opponent in an exhibition match, and Levins also scored a pin in her exhibition match.
"This pin was more than a pin. It was a win for me, my team, and all women," Jones said. 
Since that first match against Lindbergh, Jones said the girls' team has made improvements.
"We've learned how to push ourselves to the limit but also we've come closer together," Jones said.
Jones said she has gotten a lot of advice from the boys.
"Even when you're ready to quit, they have assured us that we're there for a reason," she said.
Jones said girls can have an advantage over boys in the sports of wrestling.
"Boys tend to emphasize upper-body strength, and we have both upper and lower body strength," Jones said. "Girls also tend to be more flexible than guys which can be an advantage. Girls also tend to persevere and stay strong. We can push each other to get to the places we want to go."
Jones said she knows there will be tough competition tonight at West. Last year, two of West's girl wrestlers made it to State.
"I definitely sense that our team has become stronger. I think we have a chance of winning. Early on the nerves can kind of get to you, and I feel that we definitely have what it takes to take the whole girls team to state. I think this will definitely be a great first year for Parkway South," she said.