Freshman Phenom!
In her first year in high school, Ashley Ware starred on the diamond for the Patriots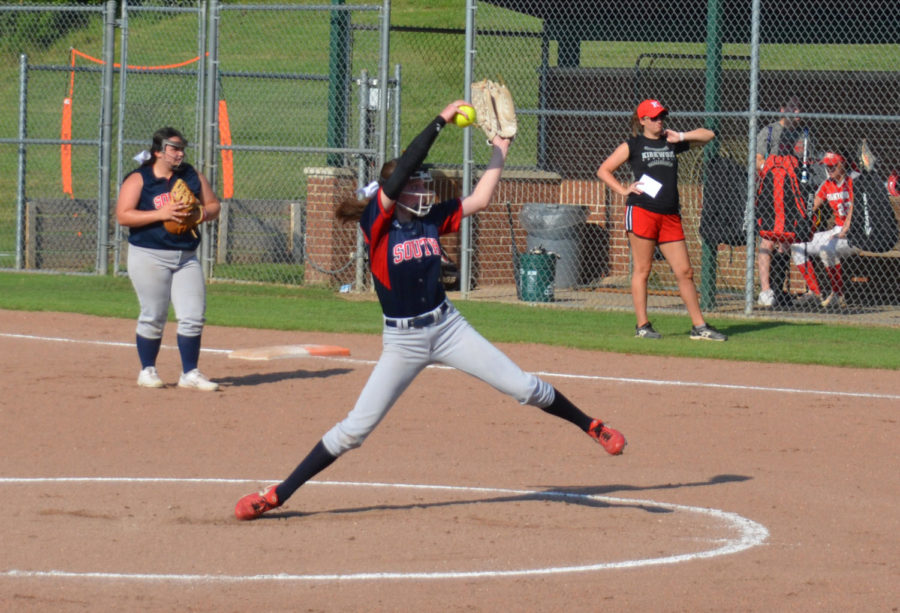 Ashley Ware is only a freshman, but you would never know that if you saw her on the softball diamond.
Ware is on the varsity team and is primarily a pitcher. She is mostly homeschooled and only has two classes at South. Ware was even chosen to play on the U.S. Junior Olympic all American softball team. She sais she has been able to play softball from "coast to coast." She has played in Oklahoma City on the same field as the College World Series, and was the starting pitcher on her team in this entire region.
Ware has gone many places and has been traveling, and said she enjoys playing with her sisters team as well.
"When my older sister Kaley started playing softball I wanted to play too," said Ware.
Ware has been traveling with her sister ever since she was ten years old, and that's where she says she fell in love with the game. Ware has had a lot of adventures–some pleasant like traveling with her sister and playing on big fields and going to cool places, but some not so pleasant. For example, one time, when she was 11, she broke her own arm while pitching, and the doctor said she may never pitch again.
Through the good and the bad she persevered and worked hard to be able to pitch again and says that she has been pitching ever since the cast got off.  Ware said it is her choice to be homeschooled and she says "we are not awkward and weird. We are just like everyone else but with more freedom and control of our day and choices. We are not Pilgrims who sew our own clothes or grow our own food. We live in the suburbs just like everyone else at South."
Ware wants people to know that she "is no different from any other student at South. I am homeschooled for the purpose of being able to go on the road, and so I have more time to practice softball."
She does say that she likes being back in public school because "some challenges with being homeschooled are not having as many friends and not knowing many people."
Ware said she and other homeschooled kids have been burdened with a stereotype of being weird or not as smart as others, but Ware wants to prove them wrong.
"She learns like a normal student," said Ware's science teacher Ryan Steele. "I don't see anything wrong when she interacts with other students." Steele says that he doesn't care if students are homeschooled or not as long as they're getting proper education.
One contribution to Ware's success is her older sister, Kayley Ware. Ware's older sister is a softball player as well and has been able to give her opportunities to train with her team and grow with more experienced players, and that's why she says "it's not stressful for me being the only freshman on varsity. The girls have been super nice and supportive. Plus I played with my older sister's team for much of the past summer which prepared me to play with older girls on my team."
This year Ware ended her season with an 11-5 record and an ERA of 2.51. She appeared in 19 games for the Patriots. Offensively, Ware hit for a .344 average in 61 plate appearances.
Ware said she enjoyed her first high school softball season.
"I love my teammates. The varsity coaches have been teaching me a lot. I have really learned a lot in a short time from them. I love softball, and it is really important to me," she said.