Kicking grass
The 2-4 boys soccer team has high hopes for the season.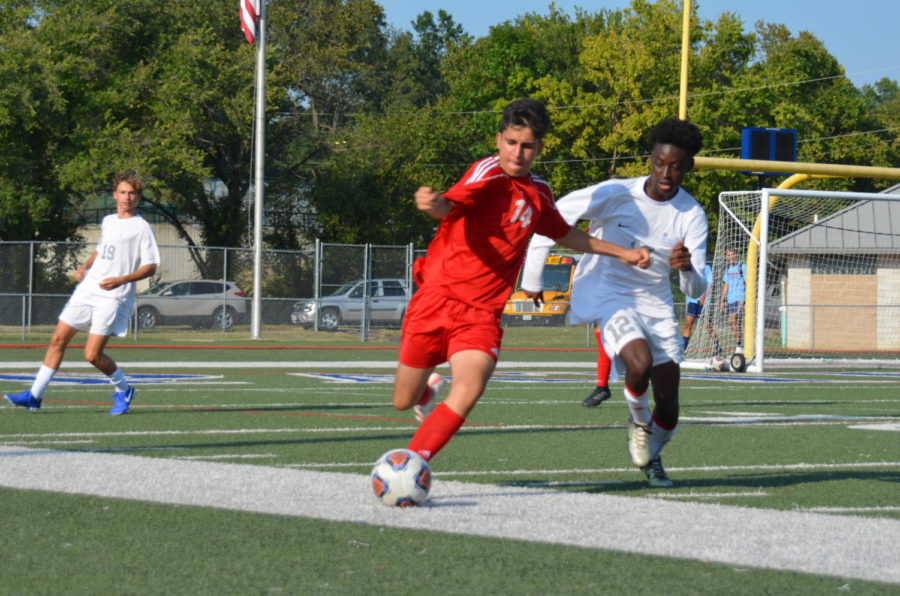 The soccer team at South has been good for many years, but this year the Patriots have some high hopes and some of the soccer players think we can go all the way to state. 
Junior Bryce Lorts says playing is fun and challenging. He has played soccer for most of his life. He said he loves the game and works hard at getting better each year. He believes that the team can go very far into the season even though they lost some seniors. 
"The team is looking really good this year," he said.
He says the Patriots lost a lot of good seniors from last year, but there are still a lot of hard workers and good players on the team. 
"Being on varsity is difficult," he said. 
Lorts says it's hard work to be on varsity but it's worth it because he is able to challenge himself every day and have better opponents.       
Junior Mahmoud Akel said he thinks the boys' varsity soccer team is a tight-knit group this year.
"We're like a family," he said.
After moving up from JV to varsity this year, Akel says the game changes dramatically. 
"The games are higher energy and a lot more fast pace," he said 
Akel said he started playing says he started playing when he was six giving him some experience. 
 While some are getting used to their new positions on varsity, other veterans feel comfortable. According to Akel Tommy Matteucci and Jones Reavis are the ones scoring the most goals on the team. Matteucci and Reavis each have two goals so far this season. 
The team's head coach is Dave Gauvain and the assistant coach is Kyle Forthhaus. Forthaus says he asks one thing from his players on and off the field and that's to "work hard to be the best you possibly can be." 
Forthaus himself has been playing soccer since first grade all through high school in college and even now he plays in his everyday life and has been coaching for 12 years. He says he sees multiple on his players as leaders and that they have potential, but for him, soccer isn't about winning or losing it's about growth and unity. 
"It's not all about how far we go it's about the growth of the people and the team," he said.