Patriots of the Past–Donnell Walker
Walker moved from a successful wrestling career at South to greater heights at Maryville.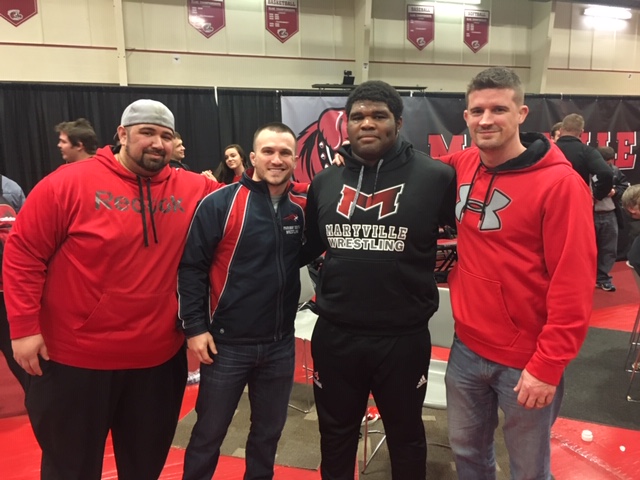 Imagine winning not only one state championship but winning one for two different sports. That's what 2012 Parkway South graduate Donnell Walker did in his time as a Patriot. In this story, we take a look back on who Walker really is, and how he got his success. 
During his time as a Patriot, Walker was a 3-time state qualifier in wrestling, winning a Missouri State Championship his senior season. In football, Walker was selected All-State twice. Walker is also a Missouri State Champion in the Shot-Put with a throw of 57 feet.
Walker's first day of high school took place back in 2008, where he entered South as just a football player. During the offseason though, he joined the wrestling team, and also joined track and field so he could stay active.
"I chose wrestling because it was something to do in the offseason. I was mainly a football player and I wanted to stay active so I chose wrestling. I eventually chose track and field too, but I fell in love with it," said Walker. 
Walker turned heads his freshman year because he was so talented, even though he had just started the sport. Former coach of Walker, Jim Lake, explains why he was such a dominant force on the mat.
"He was big, he was strong, but he was incredibly agile for being a big guy, he moved like a small guy, but he was huge," said Lake.
Fast-forwarding to Walker's senior year (2012), had qualified for state for the third time, and would go on to beat Evan Boehm who was the 2011 state championship winner, crowning Walker state champ. But for Walker, that was never his greatest accomplishment. 
"I would say just passing, just being able to graduate high school and eventually going off to college, just because of my background and everything just seemed like it wasn't too likely it was going to happen," said Walker. 
Although being such an amazing high school athlete, Walker had this to say about his most fond memories from high school. 
"Just the atmosphere of being in high school, there's nothing really like it, you go to school in college, you go to work, you don't really experience that anywhere else, you only find that out once you leave, going to class, waking up early, I enjoyed the whole thing," said Walker. 
Walker after his senior year had decided to take his talents to Maryville University. 
"The coaching staff mostly, Michael Denney, he's the head coach there still, he brought me to Maryville and I just liked the way he did things. His personality, and the aura he gave, it just really fit with me and I still use a lot of the things he taught me from being a student-athlete in my later life that I'm still using today," Walker said.
Donnell, a four-year starter and Senior Captain at 285 lbs, finished his career fourth on the Maryville All-Time Top Ten Career Win List with 116 career wins and third on the All-Time Single Season Win List with 36 wins during the 2013-14 season. He finished his career as a three-time National Qualifier, a two time Super Regional Champion and a two time NCAA Division II All-American finishing fourth and sixth. He was selected Maryville's Male Athlete of the Year after the 2015-16 season. He graduated from Maryville in 2017.
After seeing Walker's success throughout high school and Maryville, Lake said he is proud to be able to say he coached Walker.
"He didn't get the same kind of exposure as other guys did until he won state, then that's when he turned some heads. As an outsider's perspective, it was a big upset, but as a coaches perspective, we knew that he could be him if he got the chance to wrestle him. To get him through high school with the adversity that he was facing with family life was just amazing, I think he's the first person in his family to go to college and graduate with a degree, so there's a lot to be proud of," said Lake.
Finally, Walker has some advice to current student-athletes. 
"I would say four things: stay focused, work hard, because there's no secret to being a state champion, you just gotta get it going and work hard for it. Have a clean diet, not many people get that but when you have a clean diet you feel good and your body works more efficiently, and lastly, to believe in yourself," said Walker.