Welcome to South!
14 new staff members introduced to South community.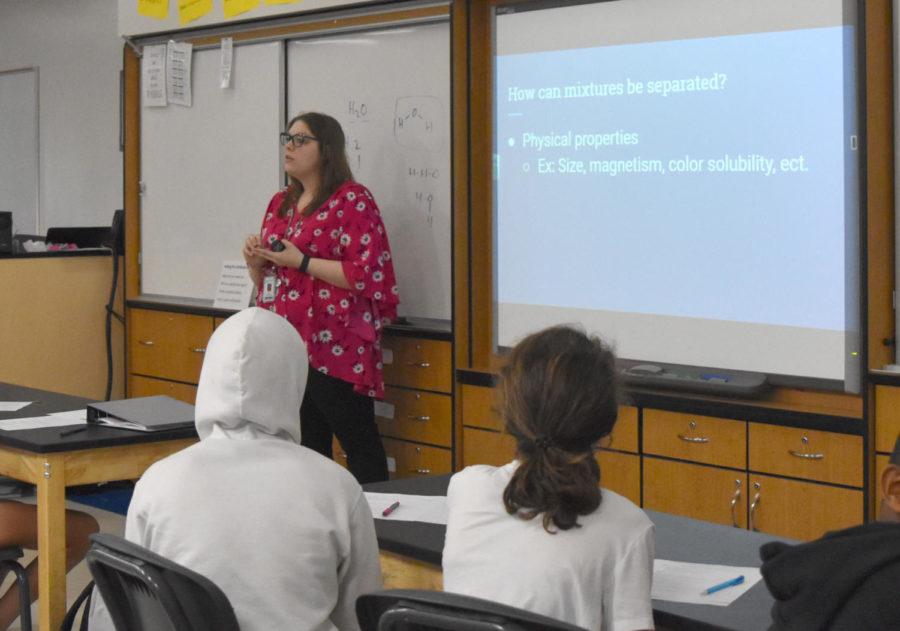 This year Parkway welcomed 14 new staff members to South. Included in this count are fitness concepts teacher Ashley Sheets, math teacher Tyler Harrington, and orchestra director Lucy Arbini.
Sheets is definitely a familiar face to many at South, not only did she teach at Southwest Middle School, she also coaches girls volleyball, is involved in the Safe and Drug-Free program, and is Young Life leader.
"I have coached volleyball at South for the past 9 years, so I already knew Coach Steele, Coach Noyes, and Coach Lesko. I am fortunate to be surrounded by a lot of teachers I have worked with through Young Life or the Safe and Drug-Free program. Big thanks to the Health and PE department for making me feel at home," she said.
As a former middle school teacher, Sheets said she prefers high school to middle school.
"When an opportunity to teach at South came up, I knew I could not pass it up. there are fewer opportunities to connect with students outside of the classroom. I am excited for the opportunity to be more involved here at South and look forward to seeing my students pursue their interests" Sheets said.
Sheets graduated from Hannibal-LaGrange University, where she played soccer. She is prepared for an active year and hopes to continue to be and get more involved with the community at South
"There is definitely a much stronger sense of community here at the high school, I love seeing students overcome challenges and achieve things they didn't think they could do," Sheets said.
Arbini is also very excited to be at South this year.
"I just got married last year and moved, so I wanted to teach in a school that was closer to my home. I was also ready for a new challenge in my teaching career and was eager to work at a larger high school with a larger orchestra program.  Parkway South was the perfect fit!" she said.
She has been teaching for 7 years after graduating from Mizzou.
She didn't always know she wanted to be a teacher, but ultimately decided to be because she "enjoy[s] working with kids and helping them figure out who they are and how to be confident in their own skin."
Arbini also plans to be involved with extracurriculars in the future.
"I would like to be involved in something in the future! Things that I would be interested in are Key Club, Young Life, soccer, track, cross country…that's all I know about right now," she said.
Outside of teaching, she plays professionally at events such as weddings.
"I perform in weddings and special events with a trio of other orchestra teachers that I am a part of. I also perform with the Webster University Orchestra. This orchestra is a mixture of Webster University students, music teachers, and St. Louis Symphony members. I love performing and continuing to develop my skills as a musician," Arbini said.
Harrington may not look like a fresh face to some who had math teacher Anne Erehart last year.
"I was Mrs. Ereharts' student teacher last year which was a great opportunity," Harrington said.
He also expressed the value he places on his friendships with the rest of the math department.
"The math department is great to work with and get to know. Everyone has been great and I look forward to meeting more staff members," Harrington said.
Harrington attended Maryville University, which helped to influence his decision to come work at South.
"At Maryville University I had met many alumni from South High and they were so proud of where they went to high school and now I have been here I see why they were so proud of South," he said.
Harrington is excited to start this school year and already holds true to the PSH spirit.
"I really like the community and culture here at South. The students, staff and faculty are awesome. Here at South I truly feel #psouthproud," Harrington said.
Other new staff members include: John Barnabee (social/emotional interventionist), Glen Blattman (SSD), Shelley Edwards (math), Michelle Goetz (progress mentoring coach), Blakeleigh Mathes (counseling teacher assistant), Mary Schuckmann (science), Ryan Steele (science), Kim VanNice (science), Matt Well (music), Lindsay Weiss (SRO), Melanie Whiteley (English).