Football is back!!
St. Louis gets XFL team; season begins in February.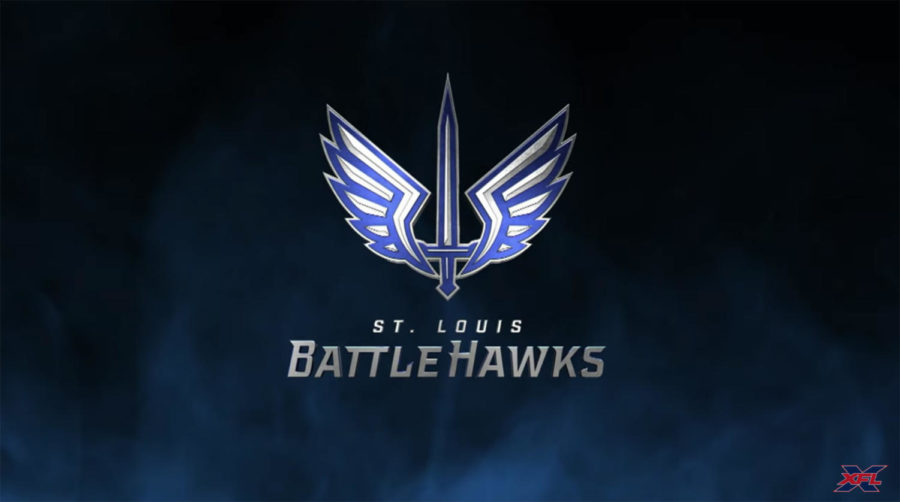 Winged warriors.
Preparing for flight.
Preparing to fight.
They await their orders.
Then attack as one.
Diving, dodging, swooping, striking.
Their mission: create chaos.
Their mandate: Win at all costs.
The St. Louis BattleHawks. Cleared to engage.
February 2020.
January 4, 2016: The day the Rams left. 
For many St. Louisans, this was a traumatic experience. Many tears, several lawsuits, and 4 years later – St. Louis is getting football back. 
"In STL there's an abundance of passionate football fans who want more. We are beyond excited to meet them, engage and collaborate with them and co-create a fun football atmosphere with them," STL Battlehawks president Kurt Hunzeker said. 
Fans everywhere, like science teacher Brad Zerman, are still devastated over the loss of Rams football. 
"From 1995-2003, I went to every single home Rams game. I also went to both NFC championship games that were at the Edward Jones Dome," Zerman said. 
For many St. Louisans, Sundays hold their fondest memories. Sundays may feel empty for those who use to spend them watching Rams football, but perhaps the Battlehawks can help.
"When the Rams left, I was devastated. I was furious with Stan Kronke screwing over the city for profit. I have no respect for him," junior Mason Lange said. 
Luckily enough for fans like Lange, the XFL is coming to Saint Louis.
If the XFL sounds familiar, that's because they're already was an XFL. In 2000, the league burst onto the scene with scantily clad cheerleaders, crazy rules, and players such as 'He Hate Me'. 
Unfortunately, after only one season the league was discontinued because of a lack of viewership and advertising revenue. This time around, the XFL is determined to make it work. 
"We have a significant financial commitment, outstanding television coverage with world-class media partners FOX Sports, ABC, and ESPN, and a focus on placing the fan above all. We believe in our plan and the way we're executing it," Hunzeker said. 
On February 8, 2020, football will officially be back in St. Louis. With the XFL's new ruleset and fast pace of play, we should be in for a treat.
The team will be led by head coach Jonathan Hayes, who was a tight end in the NFL for 11 years. In recent years he has served as the tight end coach for the Cincinnati Bengals, until stepping away to lead the Battlehawks. 
"I think coach Hayes will do a great job. I'm very excited for the XFL and the Battlehawks, I'm definitely getting season tickets," said Lange. 
Each of the 8 teams in the league will play 10 regular-season games, followed by one semi-final and then the Superbowl — if the teams make it to the playoffs. 
"The XFL will be crazy. I'm excited for some of the rules that will shorten stoppages. Watching games should be more fluent and fast-paced," said Lange. 
The new ruleset and reduced penalties should be fun to watch, but it could be a double-edged sword.
During a kickoff, the ball is kicked to the opposing team and 11 players on the kicking team run full speed to try and tackle the person receiving the kick. 
In the NFL, the receiving player can call for a fair catch and he is not tackled. In the XFL, there will be no fair catch.
"I'm worried about the no fair catch rule. While kickoffs are exciting, it can be one of the most dangerous plays in all of sports," health teacher and former athletic trainer Jane Griesenauer said. 
Aside from dangerous, exciting rules, the league will need stars to get attention. The Battlehawks will look to acquire some star power in the league's draft, which will take place in October.
"The draft will be announced soon. We are currently in the process of building out the player list. Our coaches are constantly on the lookout for players that will suit our up-tempo, fast-paced style of play," Hunzeker said. 
Expect this re-incarnation of the XFL to be more than just a publicity stunt. Any league run by Vince McMahon will have some fireworks, but the level of play should be high as well. 
"Football is football, we have a vision for the game that is fast with new rules and lots of action. There are hundreds of quality players cut by pro teams who are seeking an opportunity to play the game they love," Hunzeker said. 
While there are plenty of questions about what the league will look like or if it will last, one thing is for certain. Fans around the country, including Saint Louis, are ready for more of America's favorite game. 
"The track record isn't great. But I'm cautiously optimistic for the league, I think there's a chance it could take off. If anyone deserves a shot at more football, it's Saint Louis," Zerman said. 
Whether you are a Rams fan, a football fan, or just a St. Louisan, I think we can all benefit by rallying around the arrival of the Battlehawks. 
"The Battlehawks are St. Louis born-and-raised. We are committed to engaging with our community to earn their respect and fandom. Together we will co-author every chapter of the Battlehawks story and create incredible memories," Hunzeker said.