'The Perfect Date' is far from perfect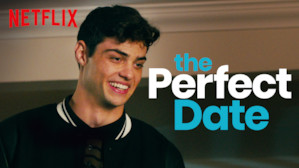 Dawson Lackey, Entertainment Writer
May 9, 2019
"The Perfect Date" is a new popular original movie on Netflix streaming platform. Once again it is another hit or miss Netflix original movie and let me tell you, it's a miss. This movie, directed by Chris Nelson, follows Brooks Rattigan (Centineo), a high schooler in Connecticut who is trying to get into Yale University. While writing his college admissions essay, Brooks struggles to find a topic that will entice Yale's admissions board, so he starts looking for something that will make him stand out against every other Ivy League potential.
Brooks accepts an offer to take a classmate's cousin to a school dance and meets Celia Lieberman (Marano), a rebel from a wealthy family who would rather spend her night at a bookstore than attend a dance. He spends the entire night trying to be the perfect date for Celia, in return for money and the use of her car for the night and makes a comment how he should be a fill-in date professionally. But while at the dance, Brooks meets Shelby Pace (Mendes), a rich, brunette bombshell whom he hopes to get the attention of.
After that night, Brooks takes the idea of being a professional date to a whole new level when he teams up with his best friend Murph (Odiseas Georgiadis) to create an app that allows girls to create the perfect date for any event. From a brooding art aficionado to a parent's worst nightmare, Brooks fulfills every girl's need for the ideal date while saving money to attend his dream school.  
Unfortunately, this film fails to be memorable in any sense. From its cheesy premise to the use of Centineo in his third Netflix teen romantic comedy this year alone, "The Perfect Date" tries to have so many different storylines that it loses focus. Brooks constantly contradicts his own behavior. As a kid who appears to come from a lower conservative background, Brooks only uses the app to assist in the cost of attending Yale. According to the Yale University website, the cost of attendance is around $75,000 per year, resulting in over $300,000 for a four-year degree. Raising that amount of money in a matter of weeks is extremely unlikely, creating giant holes in one of the film's main plot points.
Another issue of the film is its role in assisting the stereotype of girls needing a date to be content. Brooks views this app as a favor for girls. Though the concept sounds harmless, it teaches viewers that girls without dates are less valued or won't be as happy as those who do have dates. When Brooks takes Celia to her school's dance, she is seen as an outcast for her lack of desire to bring a date or even go to the dance in general. It would have been more positively effective if the ending included some type of realization by all the girls involved that they never needed the dates in the first place. The whole film was just hollow and lacked any meaning whatsoever.
Throughout the film, Brooks struggles to understand who he truly is beyond all the personas and his desire to impress people and, ironically, Brooks' character flaw is the same reason "The Perfect Date" fails to resonate positively on all viewers. I would not waste your time with this movie 4/10.