Hoop Hopes
Patriot boys basketball kicks off its season Nov. 22 against Parkway North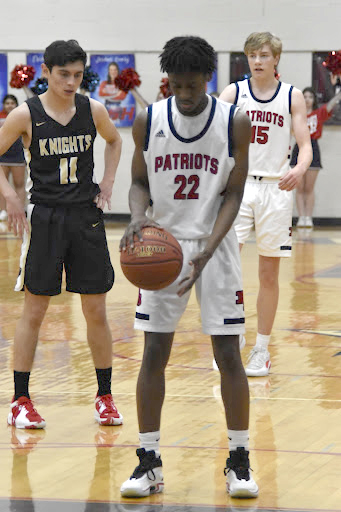 Winter is right around the corner, meaning basketball season is soon to begin. 
Last year's record of 6-19 the Patriots intended to have a stellar season. Ten players return to the varsity level, five of which are seniors at South. The basketball team says they plan to aim high, ready to bring a challenge into conference this year. 
Head Coach Phil McGuire commented on his goals for the team this upcoming season. 
"A new season always brings great hope. I hope we have an injury-free season, and we play to our potential. If we focus on positivity, being present in the moment, caring, joy and accountability, then we will be successful and have a great season. If these character traits become a struggle, then this season could still be successful, but it will be more challenging," he said.
Senior Michael Kritchell, who shot 40% from the three-point line last year, narrates his personal goals. 
"My personal goal is to play my role and lead the team and a team goal is to win our conference," said Kritchell.
Another returning senior, Evan Renz, also talks about competing within the suburban conference red. Renz finished the year with 256 points. The Patriots are aiming to place higher than last place, in which they finished last year.
"Following that, we know we can make it far in districts and are aiming for a district title," Renz said. 
Junior Rosa McCulla, said he has very simple goals for this season. 
"My goal for this upcoming season is to have a winning record," said McCulla.
Many on the basketball team agree. They hold similar hopes of winning a district championship. Eddie Ahearn, a returning junior on varsity, said competing for the district title is his main hope for the season. As the majority of the team is returning, hopes of team collaboration and success are apparent.
"Connecting with your teammates is important in terms of building chemistry with one another. Basketball is a game that can't be won through a solo act and we all need to work together in order to be a good team. We have struggled with this the past few years and this is our main focus coming into the season," Renz said. 
Through their cooperation as a team throughout the preseason, they will be able to come out of the gate ready to win. Senior Jaylen Calloway led the team offensively with 301 points on the year. The Patriots play Windsor (Imperial)  in out-of-conference play. 
"I think the peak of the basketball season is when we travel to go and play other teams outside of the St. Louis area. It's also a great team bonding experience," McCulla said.
Kritchell says that he believes the peak of the season will come sooner and with a lot of wins. 
"I think the peak of the season will be our opening Parkway tournament trying to sweep the Parkway Schools," he said.  Parkway West is the toughest rival. The Longhorns finished 24-3 last year. 
Other players believe the peak of the season comes later, after they put in all their hard work.
"The peak of the season will surely be toward the end when we have thoroughly put everything together and are working well together and playing off one another," said Renz. 
Working together throughout the challenging season, these players will use their inspiration to push them to continue to do their best.
"My family is my inspiration," said Ahearn. 
While others take a different approach thinking about this question. 
"Personally, I don't have a person I draw inspiration from in terms of basketball and I would think of myself as my own inspiration," said Renz.