The Algebra Assassin
Math teacher Rodney Holtmeyer has many fans at South High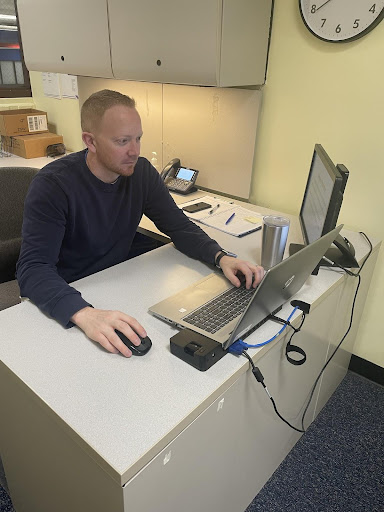 "In the beginning of the year I had no confidence in math but by the end of the year I felt that I could get better, and I did," said junior Emarie Birdsong. 
Rodney Holtmeyer is a well-known math teacher at South. Holtmeyer has been teaching at South since 2016 and students say he's had a major impact on their learning.
He explained his goals for each of his students.
"I always go into each year positively influencing as many kids as possible. I'd say most math teachers want their students to be better at math, but I want them to be better as people and I truly have a deep caring for them," he said.
Holtmeyer's colleagues comment on their gratitude toward him. One such teacher is Mr. Mertz, who is new to South this year.
"He's very friendly, very helpful, and has been a great resource for me helping me get acclimated to the school," he said.
Senior Janiah Jones also had good things to say about Holtmeyer. Jones had him for her freshman algebra class. 
"He made me feel like I was being heard all the time. No matter how many outrageous questions I asked, he made math fun for me. He was understanding and helpful and was able to adjust his teaching to my needs and is able to do so with every other one of his students. He's even helped me out of being in his class, I don't think I could ever have a math teacher as chill and open as him," she said.
Holtmeyer didn't always work at South, though. He started off at Washington High School in Washington, MO, and  shares a funny memory he had. 
"There was one time when I was at Washington when I taught there and a kid fell asleep in class, and we played a prank where we changed the clocks and all went out the room and turned the lights off to make him think school was over," he said.
Holtmeyer explains that teaching wasn't always his first choice
"I had a high school math teacher who was also my football coach and was told to go into something math or science but went to college for engineering but didn't enjoy it, and so I went back and had a meeting with my former math teacher/football coach and wanted to follow his steps in being a high school math teacher," he said. 
Holtmeyer teaches Algebra and is in charge of the school's A Plus Program. As much as he puts into his job as a teacher, he explains what he likes to do in his free time. 
"I love spending time with my girls who take up a lot of my time, playing games and watching movies, and I do enjoy watching sports and working out," he said.