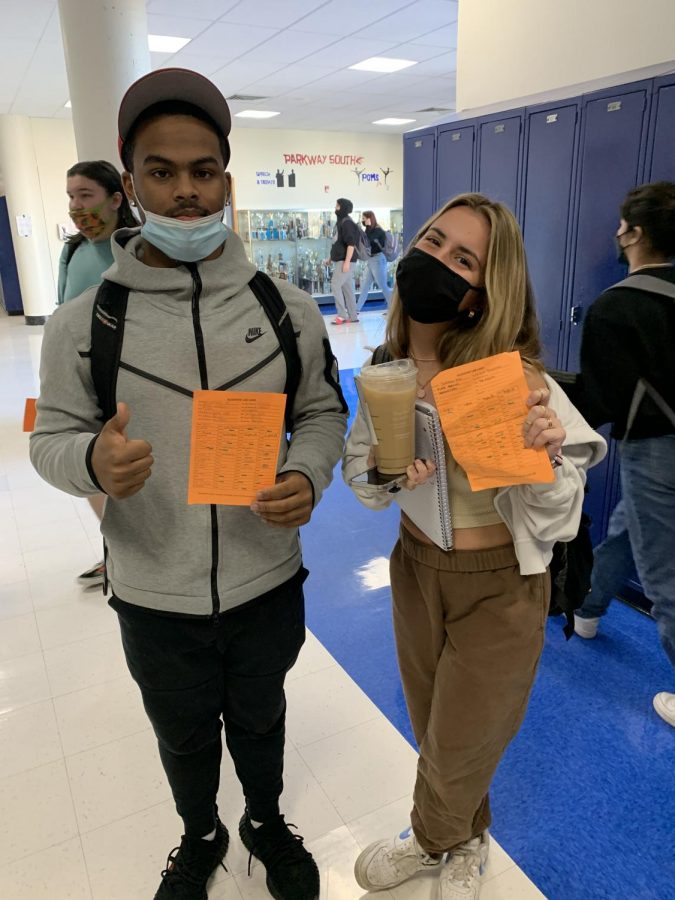 Quinn Candelario
30 hours.
Parkway implemented purple days with the intention of putting all of the Parkway high schools on the same weekly schedule. Many Parkway South students and teachers have some pretty strong feelings on the schedule changes. These feelings are most commonly expressed by students who are stressed because there's much less time to get stuff like homework done.
Teachers are also feeling the effects of the changes on their end as well. Some teachers don't even bother teaching on purple days and others try to shove as much as they can into a 45-minute class period.
"I can see how this is affecting students especially in the P.E. department. A lot of kids are less motivated to play games and participate because they have so much other homework to worry about," said PE teacher Jeremy Houchins
Houchins stresses the importance of giving high school students proper academic lab time so that everyone can be fully engaged and active in all their classes.
From a teacher standpoint, it's a lot harder for teachers to capture the attention of students because students have no academic lab time to get work done and have more work making them more stressed.
"I feel like a lot of parents want their kids to be able to see their teachers more and have that day to kind of reconnect and see every teacher," senior Kelly Ritter said.
Ritter expresses that she doesn't think it's just about lining up schedules and that parents have had a big impact on this decision to implement purple days minimizing academic labs as well."Students are going to have lower grades without academic labs and there will be higher stress levels in students and teachers," Ritter said. 
Ritter explains that having less time than usual to get your work done in school results in students getting behind and having a lot of stress. 
"I basically have to do all of my homework at home now because we have no ac. labs. The few ac. labs we do have I have to go speak with teachers and can't really work on my stuff," Ritter said. 
Senior Joey Rancilio stresses that he has to spend a lot more time doing schoolwork at home which he hadn't done in the past before purple days. He said this results in less time to do the things you like to do outside of school that help relieve some of the stresses of classes. 
"I feel like most students are traveling to subjects like math or science the most because those are usually peoples' hardest classes," Rancilio said. 
Rancilio gives his input on where students are traveling the most during academic labs with such little time to see teachers. 
"I really only study a lot for my science and math classes because I just don't have time to look at anything else with sports and different things taking up my time," he said.
Senior Jake Spoerle explains he's had to change his study habits because there's no time to focus on certain classes. Spoerle expressed that he just simply can't study a lot for non-core classes because core classes need to be prioritized.
"I can say that from the P.E. end, a lot of our students that have missed class, they haven't had many opportunities at all to do P.E. makeup during academic lab due to the small amount of academic labs we've had this year and there aren't many more left before the semester ends," Houchins said.  
Houchins shares that students have missed class a lot but he has not seen a lot of students go to P.E. in academic labs because they are going to other locations. He also shared that he's heard from other teachers that they have to meet with students more before and after school than they have in the past.
"I know teachers are stressed out because they want their students to succeed but it is tough to get them in for help or makeup with the lack of academic lab time that we've had. I can tell you about my academic lab. My students have multiple pink slips a lot of times and can't make it to all of the classes that they need help in due to the lack of academic lab time," Houchins said. 
Houchins explains how his academic lab has changed due to purple days. He talks about the increased number of pink slips and that students often don't have time to go to all the classes they need to go to.
"The few times I stay in my academic lab it's always basically empty. Everyone always has somewhere to go," Speorle said. 
Spoerle shares his experiences in his own ac. lab. Says it's always empty with students needing to travel so many different places. 
"The amount of work I've gotten hasn't necessarily changed but it has in the sense of, I am forced to complete my work at inconvenient times making it seem like I have a lot more," Speorle said. 
Spoerle mentioned that with the new scheduling he isn't really getting more work but with no ac. labs he is forced to spend more time at home and such to get everything done. 
"My academic lab has changed in that my students are almost never with me during Mods 1-3. Before, they would stay in and work and only travel a Mod or two a week," he said. 
Houchins notices his students are not really in homeroom Mods 1-3. But before, they'd mostly stay in and only travel one or two mods tops. 
A lot more has piled onto teachers and students' plates due to purple days and lack of academic labs causing more stress and chaos in the school. "I have heard from a lot of students and teachers that it has been tough and Ac Lab time needs to be looked at to help make our students more successful," said Houchins.