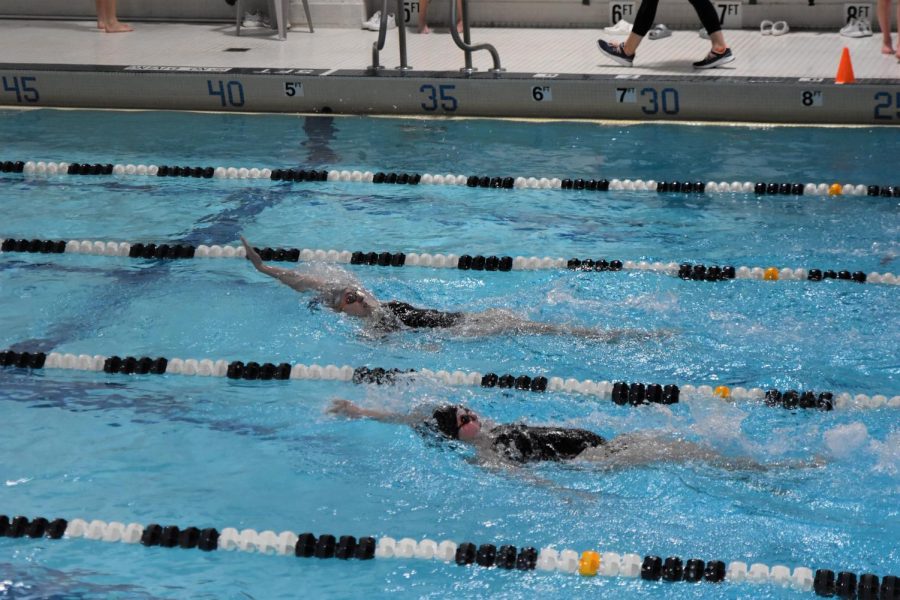 Mia Hadziselimovic
The distinct smell of chlorine. 
The splash of water. 
The form of multiple swimmers cutting through the waves. 
One stands out among them all. Junior Kylee Sullivan slices by in smooth arches of butterfly, one of the hardest strokes to master. 
"It always has just come natural to me," she said about butterfly. "It's the most fun to race." 
Sullivan said she has been swimming most of her life in clubs.
 "My family signed me up for a rec team when I was four and I wanted to keep swimming at a higher level," she said.
 She said her family was also a big part in what motivated her to keep swimming. 
"They have helped me in swimming since I was a little girl," she said. 
Along with her family, there are other reasons why Sullivan keeps swimming.
 "Swimming has been such a big part of my life for so long and I love to practice. It's become my happy place," she said. 
Sullivan now swims with South's own girls' swim and dive team, which she has been a part of since freshman year. While she loves swimming, she said one of the things that makes the team great for her are the people on it.
 "One of the best things about being on the team is my friends. Most of my best friends swim and it makes it easy to relate to them," she said. 
Sullivan has also achieved several accomplishments while being on the team.
 "Winning state was my greatest achievement and I got 2nd in my first year at state," she said. 
Sullivan has been to state twice and has three first-place medals, one in the 100 butterfly, one in the 200 individual medley and another in the 200 freestyle relay. Sullivan also has three second-place medals, again in the 200 individual medley and 100 butterfly, and also in the 200 medley relay. 
However, she felt that state 2021 was better than the first year. 
"I was more mentally prepared and the coaches were also prepared better," she said. 
Speaking of the coaches, Sullivan also spoke about the importance of Coach Blakeleigh Mathes in her life.
 "Blakeleigh is the best coach you can ask for. She would do anything for me and she is someone I can trust and rely on," Sullivan said.  
Mathes also had some things to say about Sullivan as well.
 "My proudest moment of Kylee is watching her this past year in the 100 butterfly. Watching how she battled back from her first 50 and stayed calm and didn't panic," Mathes said. 
Knowing Sullivan is one of the most talented swimmers on the team, Mathes said she makes sure that she is training her in the right way so she can always do her best. does her best. 
"Coaching Kylee is a two-way street," she said.  "I talk to Kylee to see what she needs, and I also talk with her Club Coach John David to make sure what I'm doing mirrors what he's doing and vice versa. But a lot of it is that she just wants to work very hard and she has goals. I make sure what I'm doing focuses on her races directly, like Butterfly and IM, but I also want to make sure she knows that she has a voice in what she's doing." 
Mathes also mentioned the impact that Sullivan has on the team.
 "She brings a lot to the table athletically, but more than anything it's her desire to work hard and her leadership," she said. "She sets the example for everybody else and she's a fixed point in that to where she helps everybody rise up to the occasion." 
You would think that with all the hard practicing through multiple years of swimming, the thought of quitting might have crossed her mind at least once. But Sullivan had quite the opposite thing to say. 
"I've never actually considered quitting. There's times where practicing can be very hard and exhausting, but my teammates and I always push through," Sullivan said. 
However, Sullivan did voice that everything can get stressful with all the other stuff in her life.
"It does get really overwhelming at times. We practice before and after school throughout the week, so it's hard to balance homework, relaxing time, and spending time with friends and family," she said.
Though despite all the stress, practice also has its positive effects.
"I love the rewarding feeling after finishing a hard set," she said. "I also love joking around with teammates and racing each other." 
Sullivan also spoke about how practice at South compares to her time on other teams. 
"My school team and club team have a lot of similarities. Both are really hard training, and a lot of fun. At school we have a lot more meets throughout the season. But other than that there's not a big difference," she said. 
Even with all the practicing, meet day can still be daunting.  Sullivan talked about some of her favorite traditions to do before a meet. 
"I always eat peanut butter toast for practice, and I always do the same warm-up and stretching routine," she said. 
Ultimately, with being such a prolific athlete and already pushing through many years of swimming, you can expect Sullivan to have future plans for her swimming career. 
"I hope to swim in college," she said. "Division 1."