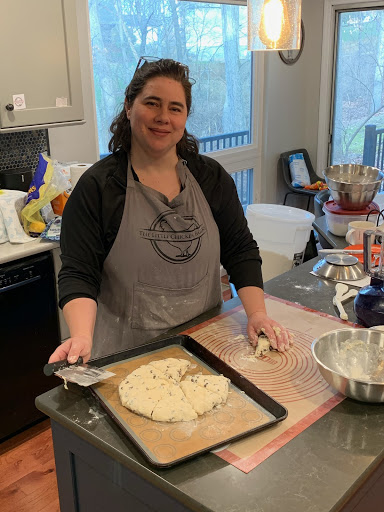 Courtesy of Ellen Ewing
One South High parent is trying to get through the pandemic one baked good at a time. 
Little Chicken Bakery is an online business or rather local bakery in St. Louis County which has a sweet spot for local customers while providing an alternative from physical stores as Covid-19 still lingers.
"Baking gave me a sense of calm," she said. "I felt productive and creative, which was important when everything else seemed so out of whack. I toyed around with making my own sourdough starter, something I'd never worked with before."
Even though she was confident in her baking skills, Ellen said transitioning from being a mother to a full-time baker requires time management and severe perseverance. 
Ellen's daughter, sophomore Kat Ewing, said she was not surprised her mom could be a successful professional baker.
"She's always been a skilled cook my entire life, and I definitely always knew that it was something she enjoyed. It was during quarantine last year, though, that she really came through and stepped it up a notch –it took that little extra push to really make her great," Kat said.
Ellen said the idea to start a baking business came from her sister. 
"By June, my sister and my best friend suggested I turn my baking into a business. I took June and July to ponder and test out more recipes in earnest, and my first official orders began in August. By the end of that month, my website was up and running," she said.
Seven months into this journey, Ellen said she has learned a lot. She is also not alone as her husband, Alex, serves as the bookkeeper while she does 100% of the baking.
"I have learned so much in the short time I've had the business. It has taught me lessons on time management, and how much is too much versus how much is enough. It's boosted my confidence as a baker and growing entrepreneur. I am happy making this business what I want it to be," she said. 
Ellen said one aspect that sets her business apart is Little Chicken Bakery is a safe alternative to physical stores that could be exposed to COVID-19. All items are picked up from Ellen's porch in a contactless manner. Ellen's house is in the Spring Hill Farm subdivision, south of Big Bend off of Hanna Road.  
"In my opinion, my mother's bakery is much safer than a physical store, mainly because of the fact that there is zero interaction. All the products' exteriors are sanitized and handled delicately, and everything is as safe as possible. Since this bakery was made during covid, it came to be in a situation where it had to be as safe as possible to stay afloat. That won't change," Kat said. 
Math teacher Susan Herrmann has been a customer of Little Chicken Bakery. 
 "It is really nice that I know that when I go to order online, they won't run out of what I want to purchase. It is always 'in stock.'  I know that there have been times that I have gone to get donuts for my family at QT or Schnucks or Donut Palace and you are at the mercy of what they have in stock.  If you don't get to a store early enough then you could miss out on what you really want.  Little Chicken Bakery 'bakes to order' so you always get what you want!" she said.
Sophomore Drew Heimlich has also ordered from Little Chicken Bakery several times. Heimlich is a  basketball star and said he loves to "munch down" on a chocolate scone from Little Chicken Bakery after a long, tedious game.
"Chocolate scones were really good. All of it was really good. Youjust gotta try it!" said Heimlich
Some of the highlights of the Little Chicken Bakery menu  are the scones that Heimlich described, sourdough breads that started it all, iced cinnamon rolls that Herrmann enjoys, as well as homemade English muffins. 
Customers can order from the bakery by visiting www.littlechickenbakery.com.
"Little Chicken Bakery is one of the 'silver linings' of the Pandemic!" said Herrmann.