Lunchtime!!
Although it's no longer in the Commons, Patriots still enjoyed lunch during virtual school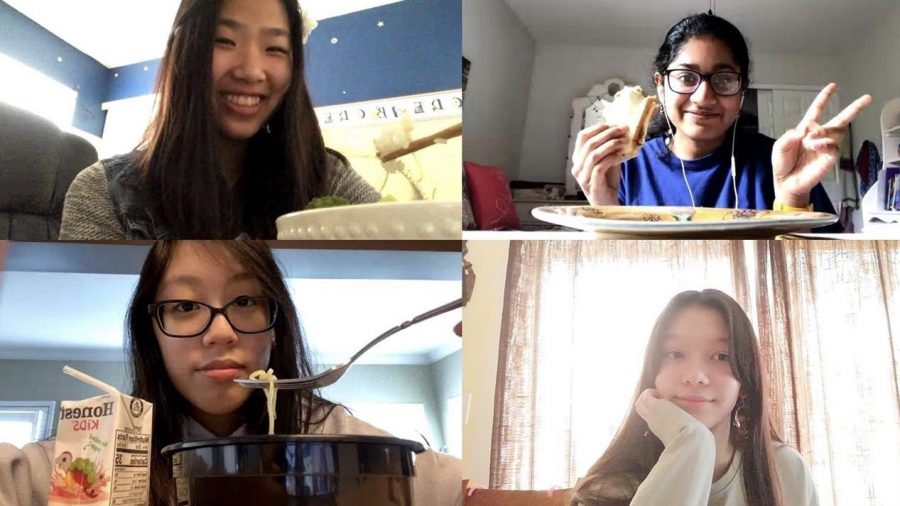 Lunch has always been an important part of the school day, a time to talk with friends and take a break from learning, but when school went home so did lunch. 
One limitation of this new way students ate lunch was not being around their friends.
Mia Owens, sophomore, was one of the students that didn't like that limitation.
"I miss chatting with my friends," she said.
Christina Politis, junior, also had similar experiences. 
"I miss having the time to see friends and chat with them about what went on during their classes. I mean you can still do that now, but it just doesn't feel the same," she said.
But despite this lack of social connection with friends, lunch during virtual learning opened up the opportunity to choose from many different lunch options that wouldn't have been possible before.
For example, Sophie Ni, freshman, had lunch food that she didn't eat at school.
"I used to eat like sandwiches and leftovers plus a bunch of snacks, but now I eat full meals," she said.
Nick Mueller, senior, had his own unique take on lunch during virtual learning.
"I usually get food from QuikTrip or Subway," he said. 
Bryan O'Keefe, a sophomore, also took part in exploring this new lunch freedom. 
"I do have these taquito things that taste pretty good," he said. 
However, for Liza Musgrave, sophomore, lunch at home and at school weren't that different.
"I make my lunch the same way I did while school was in-person, except now none of the prep is done ahead of time. There tends to be a lot of running around and stretching to reach high shelves as well," Musgrave said.
It's possible that different food options were the reason a lot of students preferred lunch at home over lunch at school.
"I am able to eat what I want rather than what the school is serving," Mueller said.
Ni had a similar take.
"Home, food is better; it's not loud and annoying," she said. 
But O'Keefe was one student that didn't have a similar approach.
"Lunch is better at school because I get to hang out with my friends, I don't need to cook meals, and overall feels longer," he said.
However, students like Musgrave were caught in the middle.
"I don't know if I can decide. Both eating lunch with friends and eating lunch with family are experiences that you won't get to have every day at other times in your life, and there are definitely pros and cons to either scenario."