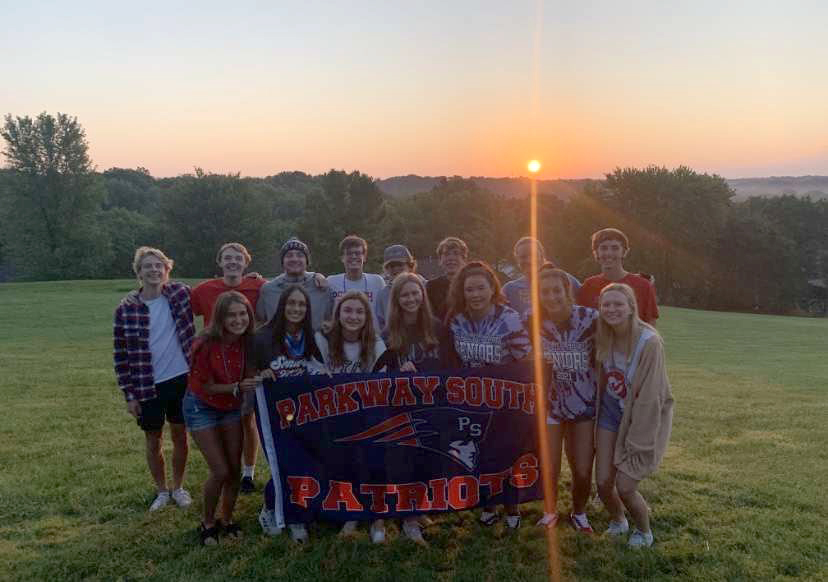 When going through 12 years of school, the year many students look forward to is their senior year. Senior year is supposed to be filled with lots of unforgettable memories. Although our first semester is virtual due to COVID-19, the graduating class of 2021 is trying to make the most out of their senior year.  
 Senior Anna Kornfeld explained how she is making the most out of her senior year.
"I still hang out with others and do the senior traditions even though we aren't in person," she said.
The class of 2021 waited a long time to be the leaders of Parkway South, and couldn't wait for their last year to be the best year yet. As a class, they celebrated their achievements together through traditions, spending time with each other, and looking for the positives even through the negatives.
"I was really excited about the feeling of being a senior. I was looking forward to taking it slow and enjoying my last year of high school," said senior Kaitlyn Ying.
Seniors know that they will be missing out on numerous traditions and activities at 801 Hanna Road. They're missing  Spirit Week, football games, homecoming, fall sports, clubs, being the leaders of the Patriot Posse at sporting events, and much more. But instead of letting the coronavirus get the best of their senior year, many have made new traditions with their friends.
Multiple groups of friends got together on the night before the first day of school to celebrate being seniors. The next morning, many people went to the football field to watch the first sunrise of their last year of high school. Another event that happened was a group of guys got together dressed in suits and ties for their fantasy football draft. 
Senior Michael Chambers said he and his friends started a new tradition where one person hosts breakfast once a week.
Spending the beginning of senior year online isn't exciting for the graduating class, to say the least. Many students missed seeing their friends, teachers, and having an Academic Lab.
Not only did COVID-19 affect the traditions and spirit of the senior class, but it also affected their future plans. Many seniors searched for the college they possibly wanted to attend after high school, but the majority of college tours were canceled, which made it difficult for seniors to figure out where they'd want to go in the future.
"I haven't been able to visit the campuses of most of the colleges that I'm applying to. I joined virtual information sessions, but they're not the same," said senior Ameena Khan.
Although it will definitely not be normal, seniors are still recognizing that it is their senior year, and realizing they will miss South High.
"At South, I've created lots of special bonds with many students and teachers. South truly matured me and made me look at life differently," said senior Jaz'mine Bell.