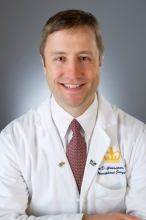 Q: How long have you been in the medical field?
A: I graduated from the University of Missouri-Columbia School of Medicine in 2003. However, prior to that I performed immunology research laboratory Massachusetts General Hospital for one year. The research project involved attempting to induce tolerance to organ transplants. We were performing transplants in miniature swine and the studying immune response to immunomodulatory drugs and bone marrow transplants. After I graduated from medical school I performed my general surgery residency at Columbia University in New York. During that time, I also spent three years continuing my research into the immunology of organ transplantation at Harvard Medical School. I graduated from my surgical residency in 2011. Following that, I did two years of advanced surgical training in abdominal organ transplantation at Columbia University. Finally, in 2013, I joined the faculty at Columbia University as an organ transplant surgeon. I also have my own research lab that is investigating ways we can perform organ transplants without having to use immunosuppressive medications for the rest of the patient's life.
Q: How long have you wanted to pursue medicine?
A:  I became interested in medicine very early on in life. Even when I was in high school, my goal was become a physician. At that time, I wanted to be a pediatrician. At Parkway South and in college, I was on the wrestling team. As a result, I became interested in orthopedic surgery since I had a few orthopedic procedures performed on myself. I initially went into the research lab to gain hands-on experience performing surgery in pigs. Ultimately, I became more interested in the research side of what I was doing than on the technical side. This led me to change my direction and become a transplant surgeon.
Q: Have you ever performed surgery on anyone that you know or are related to?
A: No. I have operated on family members of other physicians that I work with. I think it would be difficult to make objective decisions if I was operating on members of my family.
Q: Are any of your family also in the medical field? If so, what do they do?
A: I have an uncle and a cousin who are emergency medicine physician and also I have a cousin who is an obstetrician. There are many more lawyers in my family than there are doctors.
Q: How long did it take to build up your liver transplant platform in New York?
A: The main reason that I performed my surgical training in New York City is that one of the world's best liver surgeons runs the liver transplant program at Columbia. My mentor, Dr. Emond was part of the team that performed the very first living donor liver transplant surgery in the United States. He is also an expert in pediatric liver transplantation. I was very fortunate that he decided to keep me as part of his team. As a result of this, I did not have to build the liver transplant program at Columbia. However, it took three years for me to demonstrate my ability to perform liver transplant surgery at the level expected by Dr. Emond before I was made the director of the pediatric and living donor liver transplant program at Columbia.
Q: Did you take any medical classes at Parkway South High? If so, what did you take and/or like?
A: No classes that dealt directly with medicine were offered at Parkway South when I was there. However, I did fall in love with chemistry when I was a student at Parkway South. I took Advanced Chemistry with Dr. Stegeman. That course prepared me particularly well for my college courses in chemistry, which became my major.
Q: Was there anyone who inspired you to pursue medicine?
A: When I was in second grade my mother was diagnosed with Parkinson's disease. She has had a long battle with this disease. Currently, there is no cure for Parkinson's, only medications that can help control the symptoms temporarily. Watching my mom's struggle with Parkinson's motivated me to try to find cures for diseases rather than just treatments. Organ transplantation is a treatment for organ failure. Currently, because patients have to take medications to prevent rejection, and these medications have significant side effects, organ transplantation is not really a cure. My research is focused on eliminating the need for these medications so that organ transplant recipients can have a completely normal life.
Q: How long have you been conducting animal tests for your liver patients?
A: My first exposure to research for transplant patients was in 1998. I only performed that research for one year before I had to go to medical school. At that stage, I was a research technician that was in charge of helping ensure the animals received the proper treatment. None of the science being performed was my idea nor was I particularly charge of the experiment. During my surgical training, when I went back to the lab for three years, my official title was a postdoctoral research fellow. I was in charge of making sure the experiments were performed properly and for performing the surgery on the animals. However Scientific concepts we were testing were not my idea. Now, and my lab, we are testing my own strategies for inducing tolerance to organ transplants. We have been doing this for the last seven years. We have been able to stop all immunosuppressive medications and animals that have had liver transplants and they have survived in good health for more than one year.
Q: How much research is required before you start doing the actual hands-on clinical studies?
A: You will get very different answers to this question from scientists. Because I am both practicing physician as a research scientist I feel that it is critical that we know are interventions will work in animal models before we try them in humans. I have to look at the patients in the eye and tell them that I absolutely believe that what we are doing is going to help them and not hurt them. The idea is that we are testing now were typically first thought of about 10 years ago. They were originally tested mice to make sure they had some merit. Then, before we can be sure we should try these therapies in people, we testing in other species.
Q: How was your time at Harvard and how did that impact your medical career?
A: My time at Harvard was quite interesting. I met very intelligent and motivated people. The professor of my first chemistry class had won a Nobel Prize. I found that I had to work extremely hard to keep up. Probably the most important thing that I learned was that I had the ability to work extremely hard. In transplant surgery, sometimes we can work 36 consecutive hours. One other thing I learned when I did medical school at the University of Missouri– Columbia is that really smart people are everywhere. The smartest person in my medical school class went to college at Mizzou. It helped me to not put too much emphasis on where people studied or trained, but rather to care about how they performed.
Q: Did you ever consider taking up a secondary career along with medicine?
A: I consider my research a secondary career. It takes up about half of my time other compliments the clinical works that I do.
Q: Was there ever any time that a setback made you consider switching careers?
A: No. I consider medicine to be the best career possible. Doctors really make a significant impact in the lives of our patients. Particularly when I perform transplants in children, we stay in touch with the family the rest of their life and you get to see the patient grow up to be a normal man or woman. It certainly comes with frustrations when the medical system seems to try and prevent you from taking care of the patient as well as you would like. It is also frustrating when the demands of your career interfere with your personal life. But, the rewards are worth it.
Q: How was the transition from Harvard to New York? (Were you sent anywhere else in between?
A: I was at University of Missouri-Columbia for four years in between. I had visited New York when I was in college and told myself that I would never live there. I thought it was too crowded and noisy and intimidating. However, my college roommate moved to New York City after we graduated. I visited him a few times when I was in medical school and got used to the city. After living in New York for a few years being in any other city feels a little bit strange. There is so much activity, motion and noise in New York that when you leave it things seem a bit too quiet. That being said, I still enjoy leaving New York City to go to the Catskill Mountains to hike or fish. They are only two hours away and provide a wonderful break from all of the people in New York.
Q: How has being in the medical field affected your personal life/relationships?
A: My wife is a neurologist who also has her own research laboratory. It is a blessing and a curse that she is as busy as I am. I very rarely get phone calls to tell me that I am working too late and need to come home because she is also still in her office. But, she is never on call over the weekends whereas I work slightly more than every third weekend. So, I do have to take the blame for ruining many of our weekends. Medical training also delayed us from starting a family. During my transplant surgery training, I was on-call 24 hours a day except for one weekend each month. We didn't start a family during this time because my wife said she didn't want to be a "single mother."
Q: How old was your youngest ever transplant patient?
A: My youngest transplant patient was three months old and weighed slightly more than 8 pounds. They were born with liver disease, but did great after the transplant!
Q: What were some of your favorite memories from South High?
A: I remember hanging out with my friends in the lunchroom or during 15-minute break. I was also on the wrestling team and remember practice, and hanging out with my teammates. I don't particularly want to remember weight cutting, but I do remember that too. Probably my favorite memory of wrestling was the Eureka dual meet my senior year to win the conference championship. We were heavily favored but fell substantially behind early in the meet. Most of the seniors were due to wrestle in the second half of the meet. None of us wanted to lose Eureka in our senior year. We got extremely fired up and frankly dominated them in the second half of the meet. It was a wonderful feeling to win for the team and for Coach Allison. More than any personal accomplishment as a wrestler, that's my favorite memory.
Q: How would you describe your experience at South?
A: My experience at Parkway South was fantastic. I had great friends and a great time. It prepared me to do everything that I wanted to do in life. I am very grateful to all the teachers, coaches and administrators that allowed me to be who I am today.
Q: Do you have any other additional comments or questions for us?
A: I hate typing so I did a lot of this with dictation software. Please forgive me for any errors that have resulted. Thank you very much for asking me to participate in this. It made me very happy to dwell on my days at Parkway South. I miss Ballwin and St. Louis and will always be a Cardinals fan. The worst part of New York is the damn Yankees and their fans.