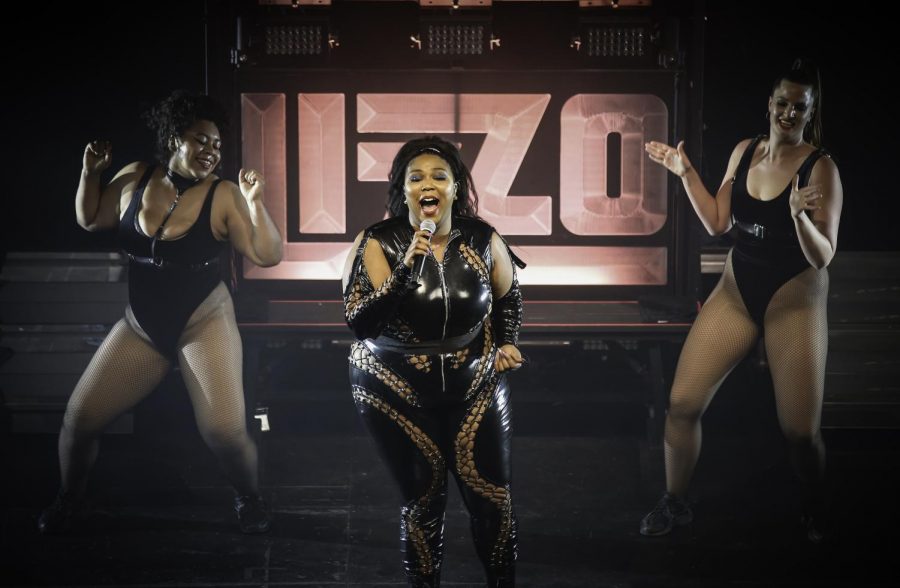 Andy Witchger/Creative Commons
The Grammy's are supposed to be an award show for the extremely talented, one-in-a-million shining stars, so why are most of them super mega chart-toppers?
This year's awards, on Jan. 26, wasn't much of a turn-around. It was easy to notice that Billie Eilish won all of the big categories. Even other mega-stars like Ariana Grande or Taylor Swift never got a chance. 
When you look at the 2020 Grammy nominations for Album of the Year—the most prestigious award the show has to offer—you'll find a lot of familiar names on there. Lizzo, Billie Eilish, Lil Nas X, Ariana Grande. But that's the problem. They're the artists everybody knows, and while there are a couple of lesser-known musicians like Bon Iver or Vampire Weekend, other categories such as Record of the Year, which focuses on the producers and engineers for a specific track, or Best Pop Solo Performance also contain popular superstars such as Beyonce or Post Malone.
It's as if the Grammys are trying to nominate all the artists that people know to be more relevant or get more viewers, instead of focusing on what should be the main point of musical fame–talent. And it doesn't help when the winners of those categories are the same person, Billie Eilish, who, don't get me wrong, has tremendous talent, but giving her every major award is a bit of a stretch. She won Album of the Year for her debut album "WHEN WE ALL FALL ASLEEP, WHERE DO WE GO?" and also she took home the prize for Record of the Year for "Bad Guy." 
Lil Nas X's recent EP, "7," was considered for Album of the Year and his hit song "Old Town Road" held spots for Record of The Year and Best Pop Duo/Group Performance for including the notable country singer Billy Ray Cyrus on the track. In the end, he resulted in losing Album of the Year but won Best Pop Duo/Group Performance. But that doesn't take away from how, if you actually listen to the EP, you'll notice that many of the songs are repetitive, auto-tuned filled copies of one another that express little variety. So, why is it being nominated for the most popular award in music history? Then look at the title of the award. Album of the year. "7" is an EP, or Extended Play record, which has more songs than a single but too short to be qualified as an album. 
On the Billboard Hot 100, "Old Town Road" stayed at the top for a total of 19 weeks. Ariana Grande's "7 Rings" was up there for 8. They both sound like everything else played on the radio. 
You'll find the Grammy's rewarding top-charting hits even last year, with Cardi B's debut album "Invasion of Privacy" winning Best Rap Album. Cardi B is notorious for stating that the reason she's in the industry is for the money on one of her many Instagram live streams about a year ago. So, why is she, a person who clearly doesn't have any passion or true dream to be an artist, earning an award instead of people who have been struggling for years to make it to the top? Why is she getting rewarded for just being entertaining and reading words she didn't write off of a piece of paper? Why is she being put ahead of people who write those words themselves? All it does is say that you don't have to be talented anymore to be famous. You just have to be like everybody else and flex about all the cool things you own. 
Not all the big stars are like that though. Lizzo, who has just recently blown up and earned a name, had the most Grammy nominations this year, including Album of the Year, Record of the Year, and Best New Artist, and came home with Grammys for Best Pop Solo Performance for her song "Truth Hurts," Best Urban Contemporary Album for her album "Cuz I Love You" and Best Traditional R&B Performance for her song "Jerome." And on top of being a talented singer, she also has some instrumental past. Lizzo is an accomplished flutist.
Choir Teacher Connor Scott had a lot to say about Lizzo's gifts. Scott is passionate about music, and even as a choir teacher values more than the talent of the voice, which he mentions when talking about Lizzo. 
"Lizzo is a trained musician. She is in band, and she's a flute player. Not only is she a really good performer and musician, she's the only one that's a really really well trained professional classical musician," Scott said. 
Scott went on to talk about how Lizzo's talents aren't the only thing that makes her special. She carries a lot of power in being confident about who she is and encouraging this in others as well. 
"It's inspirational for me and should be inspirational for all my students because she is all about body positivity; doesn't matter how you look. She's like, 'yeah, I'm a thick girl, I don't care!' Be you and love yourself," he said.  
Scott also expresses his respect for other hugely-popular artists like Taylor Swift, who released her 7th album "Lover" last year, and, even as one of the most popular artists in the industry, still manages to have a part in writing every single one of her songs. 
"Taylor Swift's album had a lot of social justice in it. Her song 'You Need to Calm Down' is mostly about LGBTQ people and how it's not really a big deal for people to be LGBTQ, but also that you can be anyone. You don't have to be like them," he said. 
Scott reaches for the artists' personalities and the impact they are making outside of their musical careers. This is something the Grammys should also consider when rewarding artists. As celebrities, they have a great deal of influence on the world, and people that step outside of their comfort zone and go above and beyond to help and spread positive messages should be rewarded just as much. But, again, several of the people the Grammys has been putting at the top haven't done much for a special cause. Or even tried to do anything through their music. They should take a step past just their career and use the power they have as influencers to help others and spread messages they believe in. That would strengthen their image and make them more of an honorable artist to earn an award. 
English teacher and music fan Melissa Gebhard had some opinions to share about the Grammy nominations as well. 
"'Social Cues' by Cage the Elephant should have been nominated because I think Cage the Elephant is a great band and are great live, but the album also has many solid songs on it, not just one," she said. 
Gebhard agrees that Lil Nas X shouldn't have gotten nominated for the Album of the Year either, but doesn't think that many of her favorite artists will earn an award. However, she did predict that Billie Eilish would be successful. 
"Not many because I like more alternative, but I think Billie Eilish has a chance," she said.  
But, she had some contrasting beliefs about the Grammys turning into a popularity contest. 
"I would say that until this year they were, but now they have more variety," she said. 
The Grammys is one of the biggest award shows out there next to the Oscars, but that doesn't mean that everybody watches them. In 2012 they had roughly 32 million people tune in while last year only 19.9 decided to show up, and in the year before that, 19.8. But this year is the most shocking, dropping to just 18.7 million viewers. 
With fewer people tuning in every year, it's understandable that the Grammy's are doing all they can to attract more viewers. They've been running since 1959, and back then people didn't have other factors like phones to keep them busy, but now while social media sites boom, TV decreases. They want what they used to have, but they can't start only plucking artists from the Top 50 to earn it back. That makes even more people become less interested because they also see that the Grammys are no longer invested in talent and that their favorite artists who aren't constantly charting won't have a bit of a chance. 
They need to give people what they really want. That'll get back their viewers. And it will lower the pain of reading the nomination list every December.