New African American Literature class provides unique alternative
Class illuminates students on literature by African American authors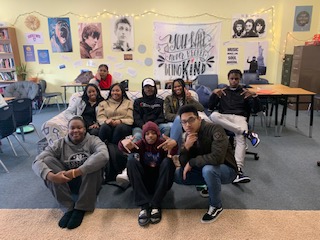 South High has a new class on the books for this school year–African American History and Literature. 
English teacher Melissa Gebhard teaches this class. Gebhard said she is very confident at knowing how she wants for her students day by day. 
"I hope it continues to grow. Being able to teach this class I've grown and expanded on the literature that I read," Gebhard said. 
She explained one thing the students do in class is choose books by African American authors to read. As they read they journal about the book. She said that she is not a history teacher but has learned a lot on the history side by teaching the class. 
"I try to ask the kids what they what and what would be best for my own teaching style. It's a class that's sort of guided by the students,¨ she said.
Gebhard added that her favorite part of teaching the class is the designing of these units. 
"For me it's just a natural fit to blend the two, history and literature,"  she said. 
Senior Jaylin Champion is a student in Gebhard's class.
"What I wanted to do is to read more African American literature," she said. 
Learning more about African American history, inspirational authors, speakers, motivators, influencers and so many more is what you can explore in this class. 
Junior Alex Price is caucasian but didn't let that stop him from enrolling in the class. Although he is a minority in the classroom, he said he doesn't feel uncomfortable.
"Right now we are currently talking about our current generation and our culture now and little things that we don't see every day the affect us," he said.
Champion said this class is a great choice for everyone, not just African American students.
"I don't think this is a class only certain people should take, I think it's a class everyone should take," she said.