Sommer suffers setback
Patriots are without their leading scorer after point guard tears ACL in second game.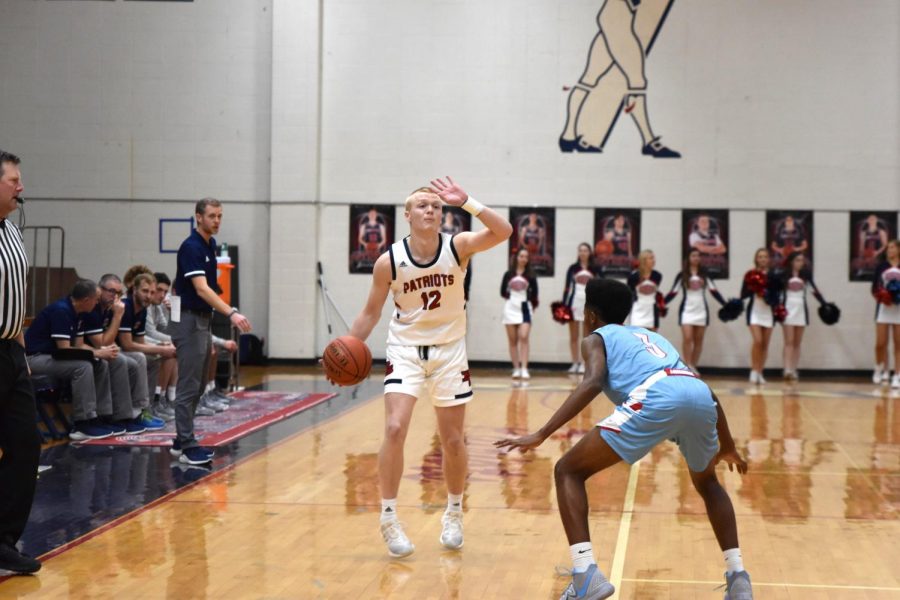 After suffering a season-ending injury, senior point guard Adam Sommer has now set his sights on making his way back onto the court as soon as possible.
Sommer tore his ACL during the second game of the season while playing Parkway South rival, Parkway West. After scoring 33 points in the first game, this injury seems to have ended what would have been a quite promising season for the senior.
The injury occurred after 6 minutes into the first quarter. Sommer, driving to the net to make a lay-up, got tripped by a defender and fell on his knee to make the initial injury on his knee. There was a foul on the play, that resulted in Sommer taking two free throws. Little did anybody know these last two shots would be his last wearing the 'PATRIOT' across his chest. 
"At the time I was just focusing on hitting my free throws to help up win the game and run back on defense," Sommer said. 
Knowing something was wrong, Sommer exited the game and would not return. Then just a few days later, an MRI revealed that Adam had torn his ACL.
"It was the worst news I had ever received. I was a wreck after hearing the final diagnosis. To know that I could not play with my teammates in front of the Patriot Posse ever again was devastating," Sommer said. 
After hearing about his diagnosis he said, "I won't be able to achieve the goals I wanted to achieve." 
This year Sommer had the chance to go out with a strong season and break the all-time scoring record for Parkway South mens' basketball.
"I don't dwell on it anymore, I am using this as motivation for my next step," Sommer said.
Sommer said he has big plans for the future; he has officially committed to Bosco Institute and is reclassifying to be a college freshman in 2021, ensuring he can have four years of eligibility. This basketball academy near Chicago has been known to produce many Division 1 players, and even an NBA player, Mfiondu Kabengele for the Los Angeles Clippers.
"I'm excited about this opportunity," Sommer said. "I know God has a plan and I truly feel this is the best option for me."
The team has stood strong despite losing their leading scorer. The Patriots are currently 6-0 on the season and are looking to continue their dominance into Districts, which will be hosted at Parkway South this year. Sommer said he will continue to join the team in its activities and supports his teammates at all times.
"I'll be back on that hardwood before you know it. No one loves this game more than me," Sommer said.