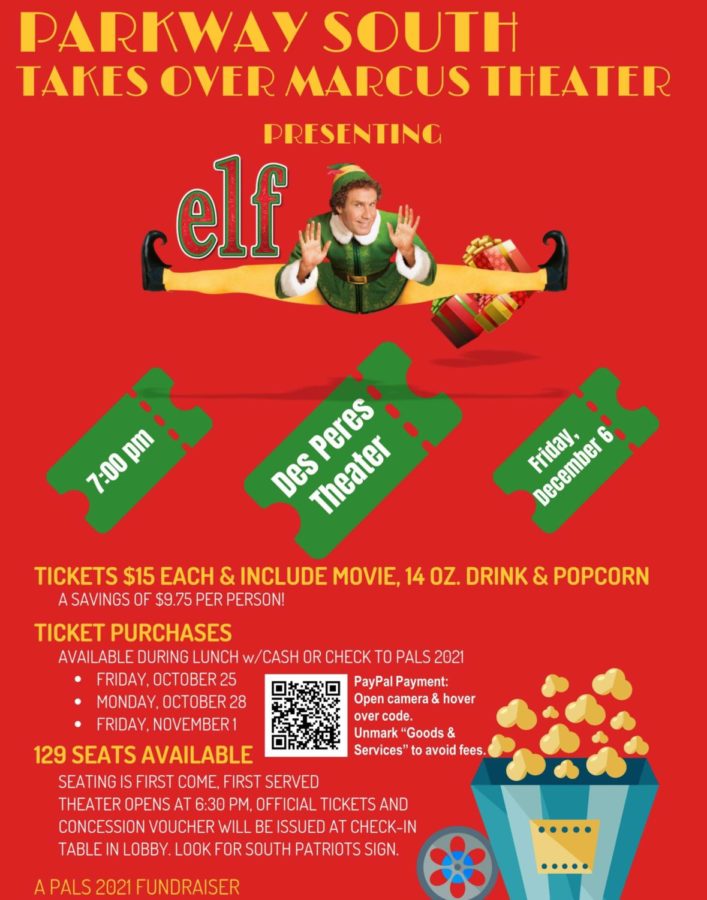 Have you ever wanted to have a movie theater for your self and your friends? To just be with the people you know, and enjoy a good funny movie with them? Well on Saturday, the PHS PALS 2021 will be hosting a movie night at Marcus Theater in Des Peres. They will be showing the movie ELF for $15 a ticket. The ticket will come with popcorn and a soda. 
"We chose ELF to get everyone in the Christmas spirit right before finals," said Bob Peterson, PALS 2021 representative. 
The event, organized by parent Carla Bale, is raising money for the graduation party for next year's seniors–the class of 2021. 
"The purpose of the movie night if for fundraising and fellowship. All money raised goes towards the graduation party for 2021," said Peterson. 
As for the $15, $4.50 goes to the graduation party if paid in cash. If paid through PayPal only $3.95 goes to the party because PayPal takes $0.55. 
Peterson said the rental of the theater was free as long as all the 129 seats are filled. Because of this, the PALS parents are expecting all 129 seats to be filled. 
Carla Bale organizer of the movie night said,¨If we don't sell the 129 tickets, then Marcus Theater may move us into a smaller theater or open the leftover tickets to the public.¨
To spread the word PALShas shared Facebook posts on the event, distributed Peachjar emails to parents, emailed students and parents, and they have sold tickets during all three lunches on three different days. 
"I know they said it on the announcements a lot and they had the booth, so I think it was well talked about, but we all know that students don't listen to the announcements," said junior Paige Peterson, who bought a ticket to the show. 
Although they made these widespread announcements, PALS 2021 still needs more students to buy tickets. As of right now, only 25 people have bought tickets. 
¨It's unfortunate that as few students bought Elf tickets as they did. I think the problem is that there isn't a way to properly advertise the movie night. Nobody listens to announcements, it's difficult to set up a mass email, and social media can only go so far. I think there will be at least one more sale, where the even will get the awareness it needs. It is for the junior graduation party, and the money needs to be made somehow,¨ said junior Donovan Bale. 
Bale said he has bought a ticket.
¨First of all I bought these ticks because, my mother organized the event, so I was on board with the event before the ticket sales. Secondly, I think that a movie night is a very fun idea not only for a social gathering but a fundraiser for my graduation,¨ he said. 
Also with "Elf," many people are happy with the choice. 
¨I think 'Elf' is the perfect choice for a Christmas movie. It has a perfect combination of funny and heartwarming. I have seen the movie, but I haven't paid very close attention to it when I have so I don't know it very well,¨ said Bale. 
Peterson also said she is happy with the movie choice.
¨I love 'Elf!' So yes I guess you could say I like the movie choice,¨ she said.
Paige said this event could lead to more theater events in the future.   
¨If this event goes well then Parkway South will have the opportunity to rent theater out for current movies in the future and offer evening showings," said Peterson.