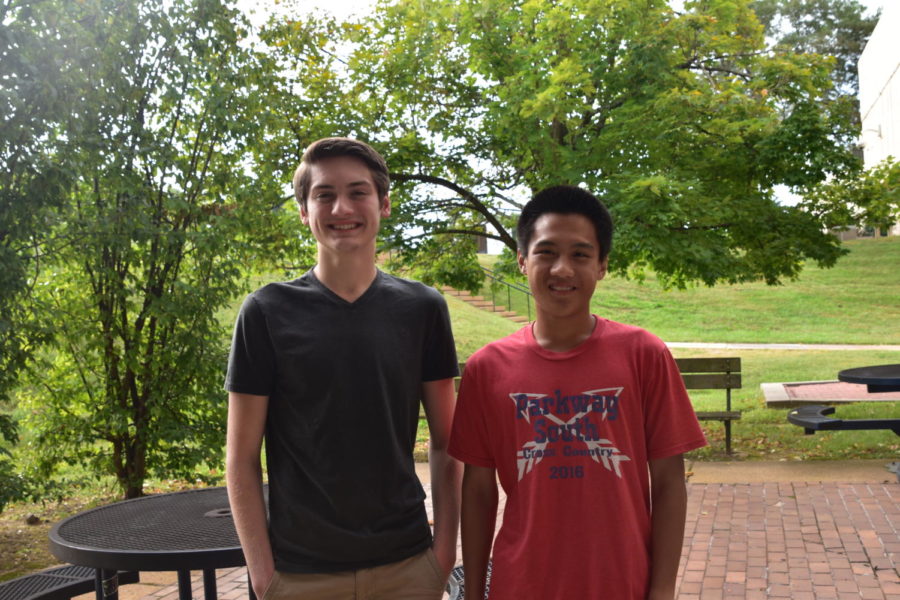 The National Merit organization recognizes students that are academically outstanding. They find these students through the student's PSAT scores, which is a test taken a junior year. 
Two students from Parkway South were acknowledged this year as semifinalists: seniors  Jeffrey Ying and Matthew Christofferson. The total between all Parkway Schools from this year was 21 students. 
This year semifinalists had different feelings coming out of the exam. 
 ¨I actually felt terrible because like the last three questions, I forgot to bubble in. I didn't feel good because I dropped three questions at the end but the rest of the test was okay,¨ said Ying. 
Christofferson said he felt overall okay coming out of the exam but did not feel 100 percent perfect. 
¨I didn't come out thinking I was going to be a National Merit Semifinalist. I felt okay going out, it wasn't terrible by any means, but like any standardized test you never really walk out of it saying yea that was great,¨ he said. 
Both Ying and Christofferson took the test sophomore year to better prepare themselves for taking it again during junior year. They had advice for students thinking of taking the PRE-SAT. 
¨Don't overthink it; a lot of people go into things like the PSAT and ACT really stressed out and really worried about everything that is going to happen. And if you get in your head about it you're going to start freaking yourself out too much and that's going to be what sinks you. You can't go into it thinking you are going to do bad,¨ said Christofferson.
While both are planning to attend college neither know where yet. Ying wants to become a physical therapist and Christofferson hopes to dual major in math and performance art/theater. 
Counselor Rob Lappin explained how the National Merit honor worked. 
"The PSAT is a PRE-SAT. So the SAT is one of the college admission exams. The PRE-SAT is an eleventh-grade test, which is also a scholarship competition. So the PSAT is the test and then the other part is the National Merit Scholarship program which is an annual academic competition," he said. 
He also noted that the test is taken in the fall of junior year and the announcement for the semifinalists comes out in the fall of senior year. After you have been announced a semifinalist, you can apply to become a finalist. To become a Finalist students have to complete a rigorous application including thorough documentation of their high school transcript. The PSAT wants to see corroborating grades. They also have to write an essay and their counselor has to write a letter of recommendation. The students also have to have a corresponding SAT or ACT score, they have to prove the PSAT score was not a mistake.
Both Ying and Christofferson said they are applying to become Finalists. Their applications were due on Oct. 9. 
Being labeled as a National Merit Semifinalist and or Finalist is such a big achievement that it follows you forever. It is such an achievement that even some of South's teachers now still have the label of being a Finalist or Semifinalist. Care Coordinator Darcie Bardy, history teacher Steve Ehrstein, and science teacher Dave Richardson were all Finalists, and Spanish teacher Jeanette Sipp-White was a Semifinalist. 
"Kids who are selected as a finalist, have the opportunity to earn scholarships. They can scholarships from corporate sponsors, some companies put money forward like Boeing, and a lot of colleges offer full-ride scholarships,¨ Lappin said.  
Along with the honor of being a National Merit Semifinalist, it is also an honor to be one of the only two Semifinalists in the school. 
¨I feel special. They pulled me in and all the administrators said congratulations,¨ said Ying. 
Christofferson said he also felt the same way. 
¨It's exciting I'm not going to lie. I am extremely grateful. I am very happy and of course, I am super happy for Jeffrey also. It is a great honor for both of us and I know we both talked about it. We were both really excited. Very humbling,¨ he said.