To the top!
Junior Kayde Cross has set his sights on the Olympics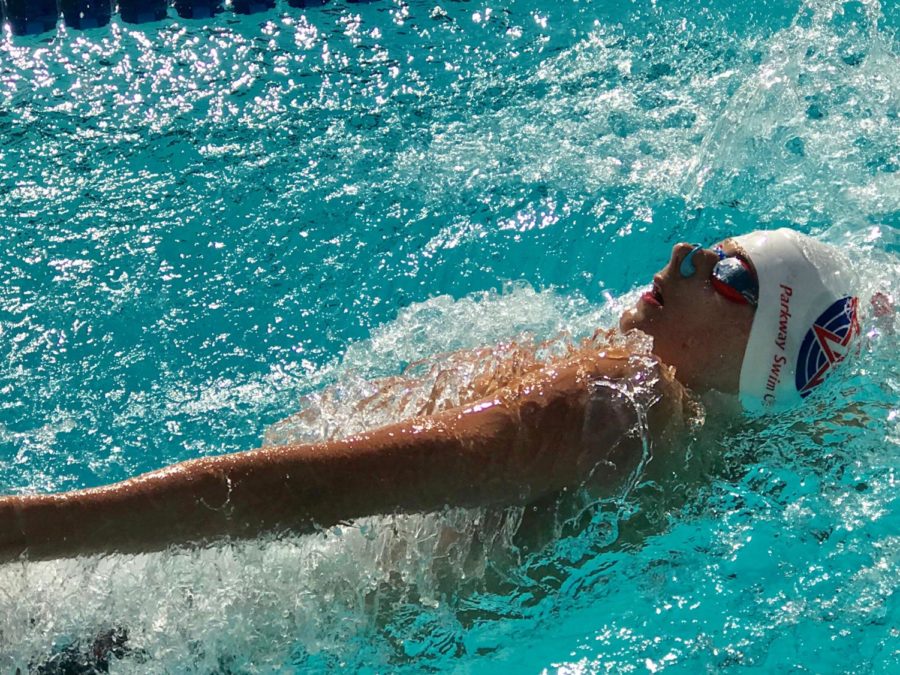 Swimming is usually a seasonal sport, but for junior Kayde Cross it is a year-round passion. 
Cross has been swimming competitively for about 11 or 12 years. He is so passionate about it that he has worked himself to become only .8 seconds away from entering the Olympic trials.
"When I was ten I got a state record and realized I could go somewhere," Cross said. 
Cross is always working on bettering himself, but still maintaining friends and school work at the same time.
"My parents and swim coach, they are always helping me balance school, swim and friends," Cross said
"I probably train about 17 hours a week with my club team, since I can't be on my high school team."
Cross said swimming has always come naturally to him.
"I enjoy swimming because it's something I'm good at. I tried soccer and basketball and those didn't click. Another reason I want to do it is so I can get scholarships for colleges," Cross said.
Cross' passion for swim has inspired other swimmers on his club and to better themselves. 
"Right now one of my biggest achievements is I reached the U.S. Open cut, and that's right under the Olympic trials," Cross said."To reach my goals, I really want to go and push myself to be in the Olympic trials."
Even though swimming is his passion he has trouble with it sometimes.
"It's like a love/hate relationship. I love traveling and meeting people, but I hate the training. Our coach really pushes us to our breaking point," Cross said.
"I travel all over," Cross said.
Just less than a second away, Cross spends all his free time training to one day reach the Olympic trials.
"I'm right there. Probably a year ago I would've been 5 seconds off, and now I'm less than a second away," Cross said.
Cross said his friends have really helped him along the way and are willing to keep pushing him. Sophomore Gabe Porter is on a team with Cross.
"Kayde always pushes me to work harder. For example, he'll do something really fast, and then I'll always try to do the same," Porter said.
Swimming has changed Kayde as a person
"He'd probably be a bit different without it, personality-wise, but he met a ton of his friends in the pool, and without them, he might be completely different," Porter said.
Porter said Cross isn't all serious when it comes to swimming; he still knows how to have a good time.
"Kayde is always pretty funny during practice. He still works hard but he isn't just purely focused on swim; we always talk and joke a bit," Porter said.
Cross' swim coach, Jon David Williford, had nothing but nice things to say about him.
"Kayde works very hard, he has one of the highest practice attendance percentages and he understands, practice is where you get better for meets," Williford said.
Williford explains how he pushes Cross to get better.
 "Like I said he rarely misses practice, so attending 7 or more practices a week sometimes 9, that takes a big commitment and work ethic. When we are putting in hard sets, he leads the lane and really pushes not only himself but others around him because they see what type of effort he is putting in. Of course, I sometimes have higher expectations, but that's more for motivating him to believe he can go a little faster," Williford said.