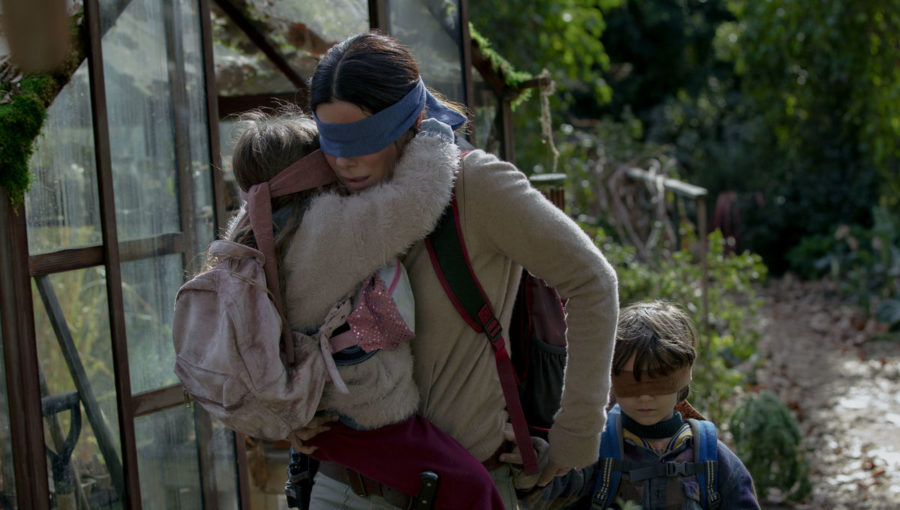 Saeed Adyani
Imagine if there was a mysterious force that decimated the population, only one thing is certain… if you see it, you die. I'm of course talking about the Netflix hit film "Bird Box". Four years before Bird Box was a Netflix movie starring academy award winner Sandra Bullock, it was a debut novel from Josh Malerman, which got excellent reviews. This Netflix original movie directed by Susanne Bier was released December 13, 2018, with a record-breaking 45 million views from different Netflix accounts in the first seven days.  It is one of the most talked about movies of the new year, but let me tell you… IT DOES NOT LIVE UP TO THE HYPE.
Malorie (Sandra Bullock) is a pregnant painter. Her sister (Sarah Paulson) is trying with all her might to get Malorie into the mothering spirit. On a fateful trip to Malorie's obstetrician, they start seeing news broadcasts about mass suicides in other parts of the world. While at the hospital the building implodes into spontaneous mass suicides. They try to escape into apocalyptic traffic chaos( you know the type) and it ends in tragedy. Malorie escapes into a nearby house where some other survivors are held up, including a sexist named Douglas (John Malkovich) and an ex-military soldier Tom (Trevante Rhodes). They all reach the conclusion that they've become trapped and surrounded by some sort of creatures upon which they must never ever lay eyes. Essentially, they're all now forever roommates who can't access the outside world without a blindfold.    
Although this may sound suspenseful, it's not. The film's structure removes all tension before this by establishing that Malorie will end up alone with two children in an escape attempt on the nearby river in the opening scene. This is a promise that they'll need to make it through some scary rapids, which will require someone to take off their blindfold, but at that point, you'll be too exhausted to care. Never mind that the actual rapids scene ends up not promising all of the dramatic setups in entailed. While on the journey, Bird Box provides plenty of dumb diversions. For example, a supply-run road trip in a car with blacked out windows, using nothing but collision detection beeps to navigate, and also multiple scenes of shooting guns blindly at the wind. Sandra Bullock calls her two children "Boy" and "Girl" for some reason just to support the characterization that she really isn't ready to be a mother. The movie is just filled with over the top things like these that really make the whole viewing experience nonsensical and exhausting.
I would not recommend this movie and would put it at the top of my disappointing movies list. It was way overhyped and does not live up to the expectations.