Tyler, The Creator comes to the Pageant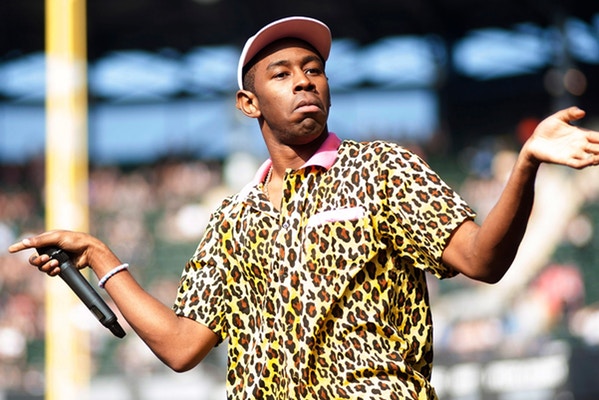 Hang on for a minute...we're trying to find some more stories you might like.
Talented pianist and rapper, Tyler Gregory Okonma (or as the world may know him, Tyler, The Creator) came to the Pageant in downtown St. Louis on Nov. 11.
He has been critically acclaimed for being brutally honest and descriptive in his lyrics. His music receives a lot of criticism as well as praise due to his outwardly passionate personality and his controversial use of words. His most prominent influences are jazz, rock and pop. He started playing piano at 14 and began writing music before he could play it.
The release of his first album, Goblin, began his rise to fame in 2011 as it earned him his first opportunity to tour around the world. Two years later, he was able to continue touring with the release of the album Wolf, which received monumental praise due to its elaborate instrumentals and expressive verses. All of the songs were produced by Tyler himself, excluding the last track. Tyler performed with a group called Odd Future up until 2015, and he now uses the name for his record label. He produces and writes a large majority of his music himself, setting him apart from other artists.
With the release of his new album, Flower Boy, many fans were anxious to see what songs would be on the setlist. This album has a tone that contrasts his others. Most of his songs prior to this album have an aggressive undertone to them, containing intensely descriptive lyrics as well as in-your-face beats. They deeply contrast tracks from his other albums, like the infamous "Yonkers" from the album Goblin, where he attacks a number of other artists with his malicious lyrics. While some of the songs on Flower Boy have his traditional antagonistic narration, most of the verses present on this album are much more about his own life rather than about others. The overall content of his lyrics take a different angle than Tyler fans are used to. "911 / Mr. Lonely", which features Frank Ocean as well as Steve Lacy, has a soothing beat along with soft vocals that are distinctly unlike any of his other albums. His raps throughout this song as well as the rest of the album are kept relatively short, in order to showcase more vocals and elaborate instrumentals rather than raps. Music review sites such as Pitchfork, Metacritic and Vulture have deemed the album to be rather soothing in comparison to his others. While Tyler performed more of his most recent hits from Flower Boy, he also incorporated his earlier hits such as "She", and "Tamale" into the setlist.   
Along with producing and performing music, he has created his own fashion line, called GOLF, which features vibrantly patterned clothing as well as his own shoe designs. He has collaborated with big name brands Vans and Converse on his lines of shoes. He had his first fashion show in 2016, and was featured in a story by Vogue Magazine.  
Both the artist's clothing line and his music show his eccentricity. Tyler fans were given the experience of a lifetime. Getting to see his advanced lyricism and underlying emotions within his tracks was an experience that will not be forgotten.